West Jersey Astronomical Society www.wasociety.us
Welcome to the Official Home Page of the West Jersey Astronomical Society (formerly known as the Willingboro Astronomical Society). Our club is in its 50th year of serving both the public and the amateur astronomers of the Delaware Valley. We have a long history of public education, star parties, interesting meetings, in-depth training and experienced leadership. We are a 501(c)(3) tax-exempt organization. Click here for membership information (dues can now be paid through PayPal).
Announcements Last Update: Thursday, December 21, 2017
The WAS Officers for 2018 have been elected. Click here for the results.

| | |
| --- | --- |
| Dec 21 | Solstice at 11:28 am EST. The sun reaches its most southerly declination (in Sagittarius, near the Lagoon and Trifid Nebulae) marking the beginning of Winter for the Northern Hemisphere. |
| Jan 1 | Full Moon at 9:24 pm EST in Gemini. |
| Jan 5 | Formal Meeting, 7:30 pm at the Virtua Health and Wellness Center in Moorestown, NJ. As always, guests are welcome and no astronomical experience is necessary. Use the Main Entrance and check with the security guard who will direct you to the conference room. |
| Jan 16 | New Moon at 9:17 pm EST in eastern Sagittarius. |
| Jan 19 | Informal Meeting, 7:30 pm at the Virtua Health and Wellness Center in Moorestown, NJ. |
Photo Spotlight Image posted 12.10.2017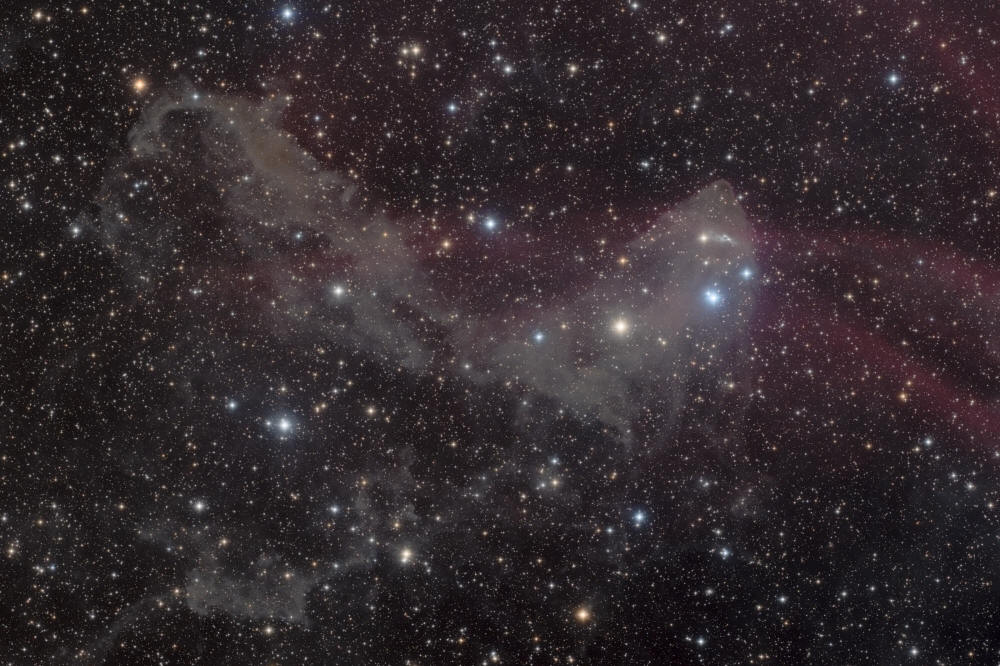 Dan McCauley captured this image of LBN 437 (Lynds Bright Nebula), the dusty-gray colored diffuse nebula that's superimposed on LBN 428, the reddish emission nebula also known as Sh 2-126 (Sharpless Catalog). These objects are located in the constellation Lacerta, and celestial north is down in this image. Dan captured it with a Takahashi FSQ-106EDX4 apo refractor and a QSI-683 CCD camera. The luminance data was captured at Atsion in Wharton Stae Forest, NJ, while the color data was captured at Pemberton Lake off Magnolia Road. Click here for a larger version.
Click here for the previous home page image.
Note: Club President, Roger Cowley, has published a book, Gauging the Solar System: Measuring Astronomical Values for Yourself. Have fun and do more than just snap pictures of the sky! Available at Amazon too.
Click to contact the . Members are encouraged to submit their astronomical images to the webmaster for inclusion on the WAS Home Page. Be sure to include a description, date and time, as well as equipment and photo data.
USNO Solar System Object Apparent Disc
Star & Constellation Pronunciation Guides