West Jersey Astronomical Society www.wasociety.us
Welcome to the Official Home Page of the West Jersey Astronomical Society (formerly known as the Willingboro Astronomical Society). Our club is in its 52nd year of serving both the public and the amateur astronomers of the Delaware Valley. We have a long history of public education, star parties, interesting meetings, in-depth training and experienced leadership. We are a 501(c)(3) tax-exempt organization. Click here for membership information (dues can now be paid through PayPal).
Announcements Last Update: Sunday, November 24, 2019
| | |
| --- | --- |
| Nov 26 | New Moon at 10:06 am EST in northern Scorpius. |
| Dec 6 | Formal Meeting at the Virtua Health and Wellness Center in Moorestown, NJ. As always, guests are welcome and no astronomical experience is necessary. Final nominations will be accepted and Elections for the 2020 officers will be held. |
| Dec 12 | Full Moon at 5:12 am EST, inside the horns of Taurus. |
| Dec 14 | Holiday Party, for members and their guests, starts 6 pm at our regular meeting site in the Virtua Health and Wellness Center. |
| Dec 19 | Informal Meeting at the Virtua Health and Wellness Center in Moorestown, NJ. This will be the last Informal Meeting to be held on the third Thursday of the month. Starting in January 2020, informal meetings will return to the third Friday of the month. |
| Dec 21 | Solstice at 11:19 pm EST; the Sun reaches its most southerly declination and Winter begins for the Northern Hemisphere. |
Photo Spotlight Image posted 11.16.2019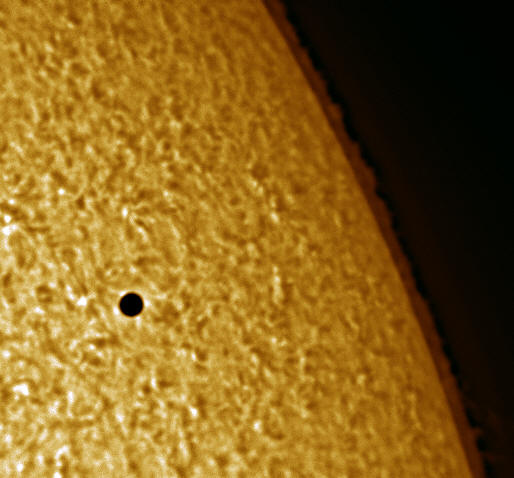 On November 11, 2019, the innermost planet, Mercury, transited the sun as seen from the earth. Club member Al Meloni captured Mercury in front of the sun, shown in hydrogen-alpha (H-α) light, as it approached the western limb about 12:45 pm EST. Third contact would be at 1:02:40 pm for his location at the old Merchantville, NJ, high school football field near 40°N-75°W. Standard contact times are measured at the edge of the photosphere, the disc of the sun visible in "white" light. It is seen here as the smooth golden limb where it transitions to the ragged-edge chromosphere. Except during a total solar eclipse, the chromosphere is visible only with H-α filtration.
Al took this photo with a cobbled-together refracting telescope, utilizing a Stellarvue tube, a Feather Touch focuser and a William Optics 80 mm FPL-53 doublet objective. It was mounted (and tracking) on an iOptron ZEQ25 equatorial mount. Image capture was through a DayStar Quark H-α filter to an Imaging Source DMK 21AU04 digital monochrome astro-camera. The AVI was processed with HandyAvi to select the best frames, then AutoStakkert 2 for the frame stack, then RegiStax for wavelets. Finally, it was touched-up and colorized with Photoshop.
Click here for the previous home page image.
Click to contact the . Members are encouraged to submit their astronomical images to the webmaster for inclusion on the WAS Home Page. Be sure to include a description, date and time, as well as equipment and photo data.
USNO Solar System Object Apparent Disc
Star & Constellation Pronunciation Guides
Old SOHO Link Alternate SOHO Link