West Jersey Astronomical Society www.wasociety.us
Welcome to the Official Home Page of the West Jersey Astronomical Society (additionally known as the Willingboro Astronomical Society). Our club is in its 55th year of serving both the public and the amateur astronomers of the Delaware Valley. We have a long history of public education, star parties, interesting meetings, in-depth training and experienced leadership. We are a 501(c)(3) tax-exempt organization. Click here for membership information, including a PayPal link to pay dues (click here to make a separate donation). Members in good standing have access to the gated Barnegat Road Observing Site in the dark New Jersey Pines, while Atsion Field in the Pines is available to those with valid membership cards.
Announcements Last Update: Friday, December 30, 2022
Photo Spotlight Images posted 12.08&15.2022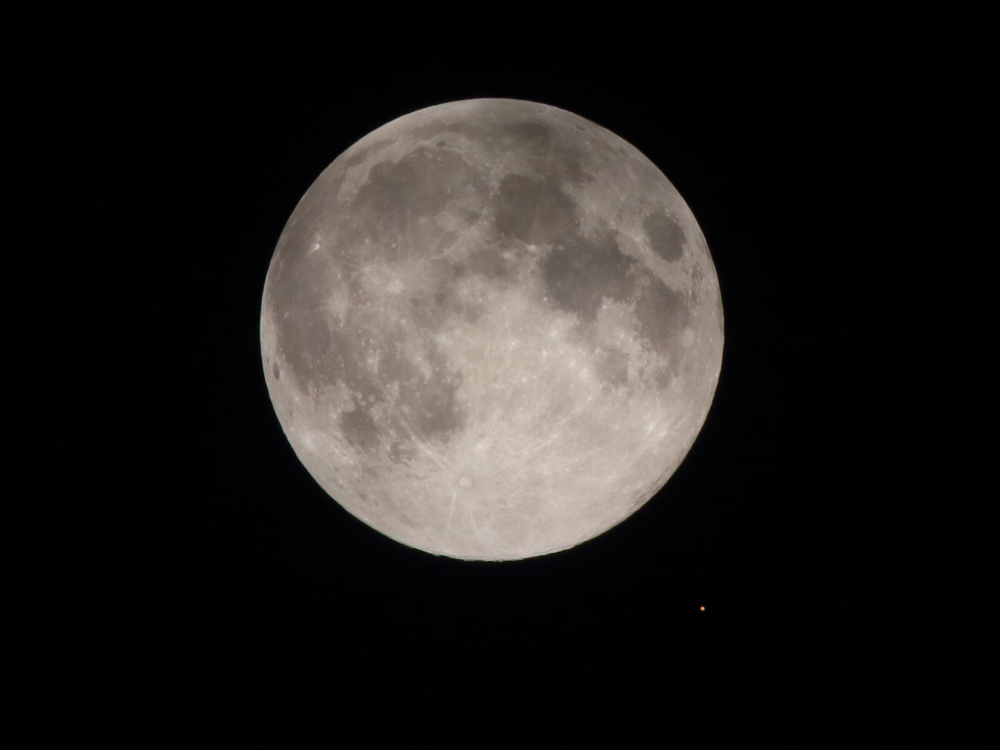 Club Secretary and Star Watch Director, Suzanne Leap, captured this image of the Full Moon (when the Moon is at opposition) on December 7, 2022, about 50 minutes after its closest approach to the planet Mars, which would be be at opposition about an hour later at 12:42 am EST on Dec 8. Mars is in the lower-right quadrant of this image captured from Runnemede, NJ, at 11:40 pm, when Mars was 7.6 arc minutes from the lunar limb. Much of the United States would see the Moon occult Mars during this conjunction, but from New Jersey through Florida into Texas, the Moon had just a near miss as it passed Mars (here's a coverage map). This image was taken with a Canon EOS 80D DSLR and a Canon 400 mm f/5.6L telephoto lens on a fixed tripod. It was exposed 1/80 second at f/18, ISO 200. It was lightly processed with Canon's Digital Photo Professional 4 and cropped to about 35% of the original frame (and a 4:3 aspect ratio) for a field 3.2° wide x 2.1° high. Mouseover for label.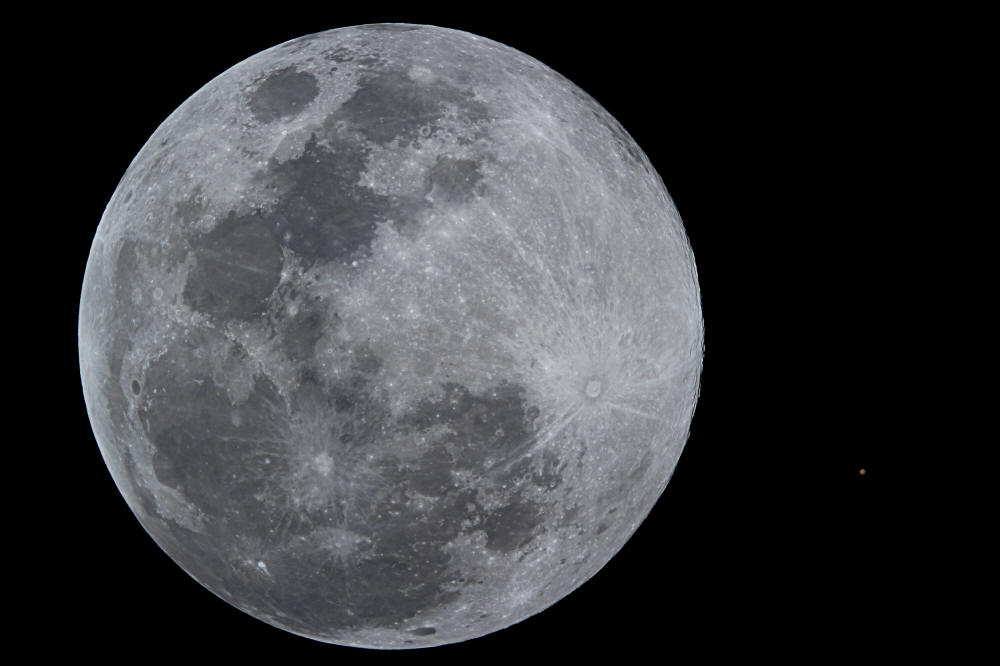 Club member Jim Mack also captured an image of the Full Moon close to Mars on December 7, 2022, from Florida. Mars in the lower-right quadrant, mouseover for an enlarged view of the area. It was taken with a Canon T5i DSLR and an AstroTech AT111 111 mm, f/7 ED triplet refractor. The first image of the entire Moon was captured at 10:20 pm using a 2x Barlow (= 1,554 mm focal length) when Mars was 23'42" from the lunar limb, while the mouseover close-up was taken at 10:28 pm using a 3x Barlow (= 2,331 mm focal length) when Mars was 23'52" from the lunar limb.
Here's another image taken from New Jersey (scroll down) at 11:10 pm by club member Joe Stieber when Mars was 2'20" from the lunar limb.
On December 10, 2022, WAS members gathered at P.J. Whelihan's in Medford Lakes, NJ, for the annual Holiday Dinner...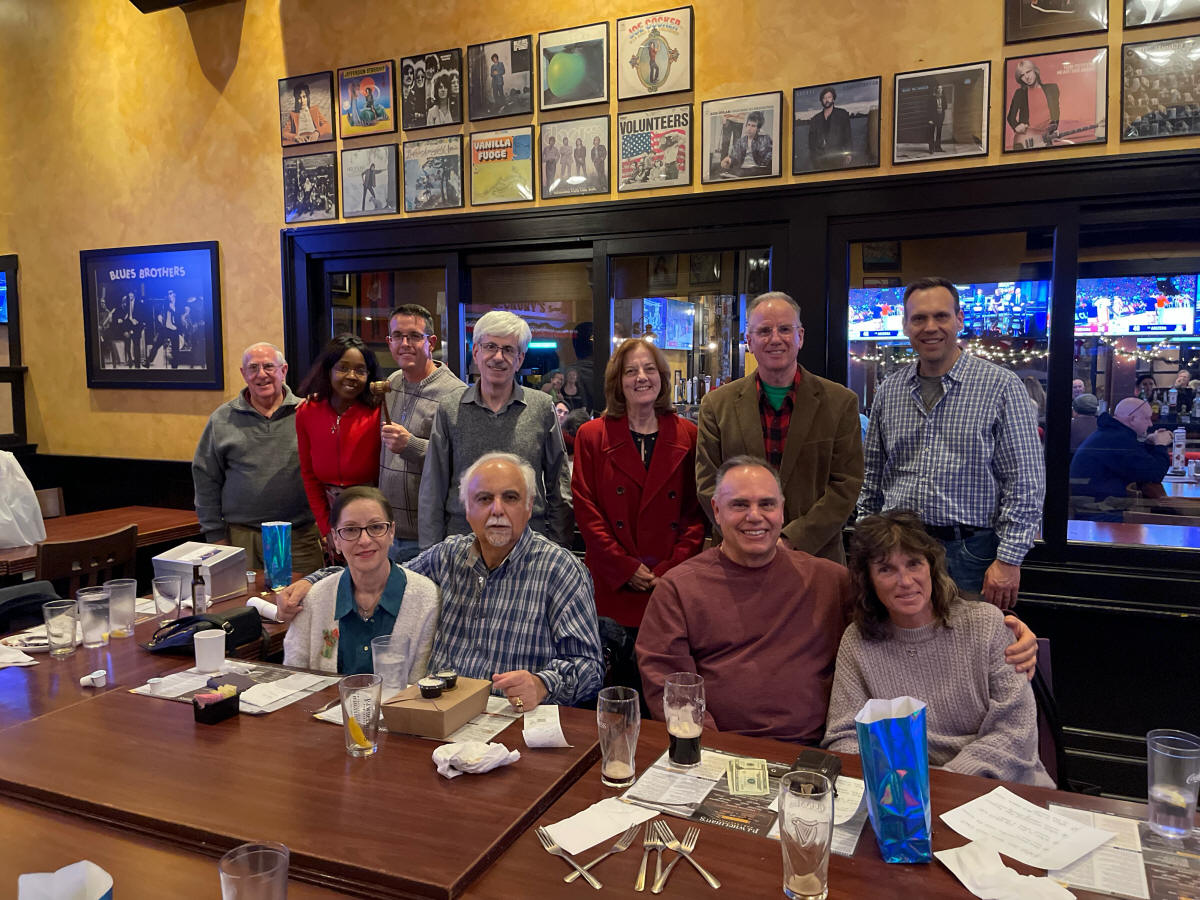 From left to right, seated: June, Al (President), Jim, Sally; standing: Dave, Marla, Ken (President-elect for 2023), Gary, Suzanne (Secretary and Star Watch Director), Val and Leo.
Click here for the previous home page image.
Sky & Telescope's This Week's Sky at a Glance, December 30, 2022, to January 7, 2023. The USNO's The Sky This Week, December 20, 2022.
Click to contact the . Members are encouraged to submit their astronomical images to the webmaster for inclusion on the WAS Home Page. Be sure to include a description, date and time, as well as equipment and photo data.
Astrospheric Forecast for the Barnegat Road Observing Site

Star & Constellation Pronunciation Guides (updated Sept 7, 2022)
Lunar X Predictions (UT)
United States Naval Observatory, Astronomical Applications