West Jersey Astronomical Society www.wasociety.us
Welcome to the Official Home Page of the West Jersey Astronomical Society (formerly known as the Willingboro Astronomical Society). Our club is in its 53rd year of serving both the public and the amateur astronomers of the Delaware Valley. We have a long history of public education, star parties, interesting meetings, in-depth training and experienced leadership. We are a 501(c)(3) tax-exempt organization. Click here for membership information (dues can now be paid through PayPal).
Announcements Last Update: Tuesday, October 27, 2020
| | |
| --- | --- |
| Note: | Public Star Watches at Batsto and Member Star Watches at Atsion have been cancelled through the end of 2020 due to COVID-19 concerns. The status of the 2021 Star Watches is currently indeterminate. |
| Oct 31 | Full Moon at 10:49 am EDT at the Cetus-Aries border. This is a "Blue Moon" by the definition of being the second full moon in a calendar month. The first was on October 1, 2020. |
| Nov 1 | Daylight Savings Time ends as we return to Standard Time at 2 am EDT, which becomes 1 am EST. |
| Nov 6 | Formal Meeting; online via Zoom, opening at 7:30 pm (log-on information will be posted to the WAS e-group). Physical meetings at the Virtua Health and Wellness Center in Moorestown, NJ, remain suspended indefinitely due to COVID-19 concerns. |
| Nov 15 | New Moon at 12:07 am EST in Libra. |
| Nov 20 | Informal Meeting; online via Zoom, opening at 7:30 pm (log-on information will be posted to the WAS e-group). |
Photo Spotlight Image posted 10.09.2020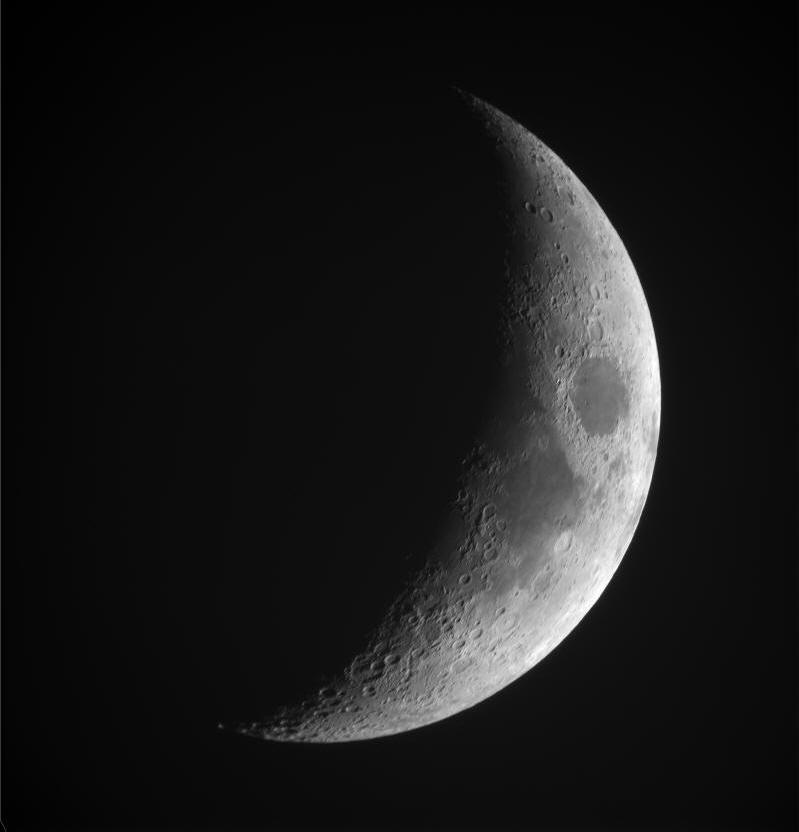 Club member Dave Neunheuser took this detailed image of the Crescent Moon, 27% illuminated, at about 7:00 pm EDT on September 21, 2020, just minutes after sunset, but he used a ZWO 850 nm infrared filter to squelch the effects of a blue sky. It was taken with a ZWO 183 cooled monochrome camera on a vintage Takahashi 200 mm f/4 astrograph. It represents half of 3,200 frames captured and processed with AutoStakkert!, RegiStax, ImagePlus and Photoshop CS2.
Click here for the previous home page image.
Click to contact the . Members are encouraged to submit their astronomical images to the webmaster for inclusion on the WAS Home Page. Be sure to include a description, date and time, as well as equipment and photo data.
USNO Solar System Object Apparent Disc
(this link may be inoperative as the USNO websites are undergoing modernization; estimated completion is now Fall 2020)
Star & Constellation Pronunciation Guides
Old SOHO Link Alternate SOHO Link