West Jersey Astronomical Society www.wasociety.us
Welcome to the Official Home Page of the West Jersey Astronomical Society (formerly known as the Willingboro Astronomical Society). Our club is in its 53rd year of serving both the public and the amateur astronomers of the Delaware Valley. We have a long history of public education, star parties, interesting meetings, in-depth training and experienced leadership. We are a 501(c)(3) tax-exempt organization. Click here for membership information (dues can now be paid through PayPal).
Announcements Last Update: Monday, January 20, 2020
| | |
| --- | --- |
| Note: | The 2020 Public Star Watch schedule has been posted. Dark time, January 18 to February 01, 2020. |
| Jan 24 | New Moon at 4:42 pm EST in western Capricornus. Omega Centauri transits at 5:15 am EST. |
| Jan 27 | Venus passes 4 arc minutes south of Neptune mid-afternoon, 12 arc minutes apart at 7 pm EST. Three-day-old crescent moon nearby. Comet C/2017 T2 (PANSTARRS) will be passing near the Double Cluster in Perseus. |
| Feb 7 | Formal Meeting, 7:30 pm at the Virtua Health and Wellness Center in Moorestown, NJ. As always, guests are welcome and no astronomical experience is necessary. |
| Feb 9 | Full Moon at 2:33 am EST in western Leo. |
| Feb 17 | The Winter Star Party begins in the Florida Keys, runs through February 23. |
| Feb 21 | Informal Meeting, 7:30 pm at the Virtua Health and Wellness Center in Moorestown, NJ. Informal meetings return to the third Friday of the month in 2020. |
| Feb 23 | New Moon at 10:32 am EST in Aquarius. Omega Centauri transits at 3:17 am EST. |
Photo Spotlight Image posted 1.06.2020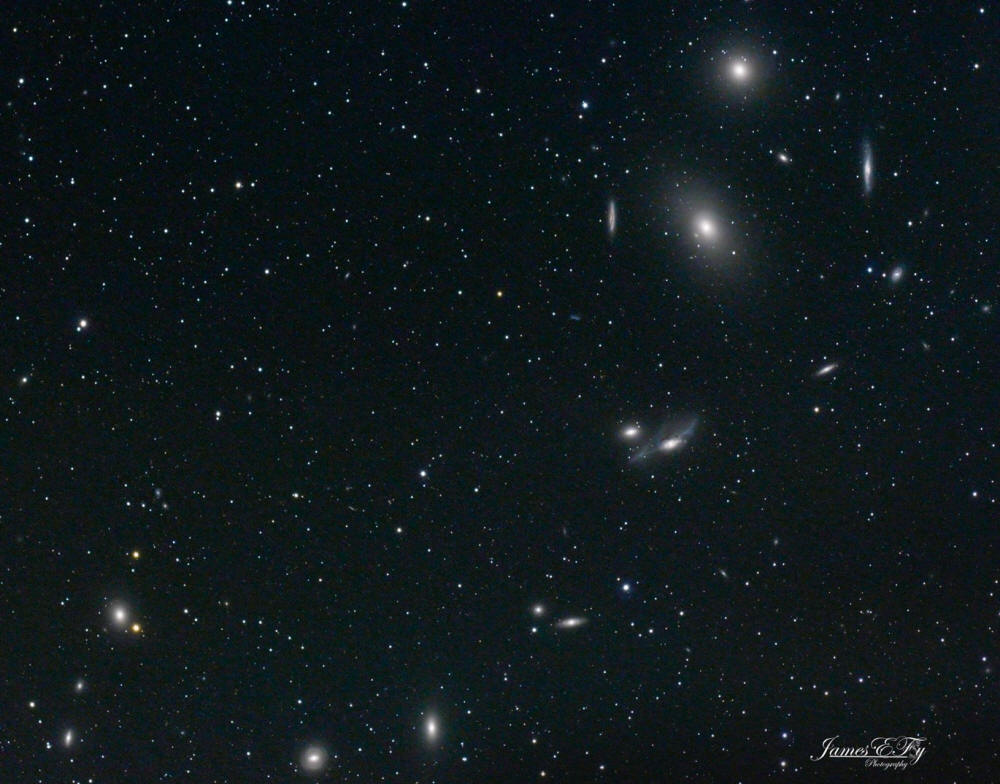 Club member Jim Foy imaged Markarian's Chain, a string of galaxies in the constellation Virgo. This image was captured on 03 & 06-April-2019 from Steelmantown in Belleplain State Forest, NJ, with a Takahashi FSQ106N, f/5 apo refractor on an Astro-Physics AP900 German equatorial mount using a full-spectrum, Hap Griffin modified Canon EOS 60D digital SLR camera. It was exposed a total of 145 minutes (29 x 5 minute subs) at ISO 1600. Autoguiding with PHD2, capture with Sequence Generator Pro and digital post-processing with PixInsight and Photoshop CC.
Click here for the previous home page image.
Click to contact the . Members are encouraged to submit their astronomical images to the webmaster for inclusion on the WAS Home Page. Be sure to include a description, date and time, as well as equipment and photo data.
USNO Solar System Object Apparent Disc
Star & Constellation Pronunciation Guides
Old SOHO Link Alternate SOHO Link