West Jersey Astronomical Society www.wasociety.us
Welcome to the Official Home Page of the West Jersey Astronomical Society (formerly known as the Willingboro Astronomical Society). Our club is in its 50th year of serving both the public and the amateur astronomers of the Delaware Valley. We have a long history of public education, star parties, interesting meetings, in-depth training and experienced leadership. We are a 501(c)(3) tax-exempt organization. Click here for membership information (dues can now be paid through PayPal).
Announcements Last Update: Saturday, September 30, 2017
The WAS 50th Year Gala Anniversary Celebration Dinner will be held on Saturday, October 14, 2017. Registration and payment must be received by October 6, 2017. Click here for details.

Now available! WAS Logo Gear from CafePress... hats, shirts, mugs and more. Check it out!


| | |
| --- | --- |
| Oct 5 | Full Moon at 2:40 pm EDT in Cetus. It's the Harvest Moon, the full moon closest to the September equinox. |
| Oct 6 | Formal Meeting, 7:30 pm at the Virtua Health and Wellness Center in Moorestown, NJ. As always, guests are welcome and no astronomical experience is necessary. Use the Main Entrance and check with the security guard who will direct you to the conference room. |
| Oct 14 | WAS 50th Anniversary Dinner, click here for details. |
| Oct 19 | New Moon at 3:12 pm EDT in Virgo. |
| Oct 20 | Informal Meeting, 7:30 pm at the Virtua Health and Wellness Center in Moorestown, NJ. |
| Oct 21 | Public Star Watch at Atsion. Note that this Star Watch is at Atsion rather than Batsto. Also note that there will be a weather backup date, but it's the day before, so check back on Friday, October 20, for the weather call. |
Photo Spotlight Image posted 9.30.2017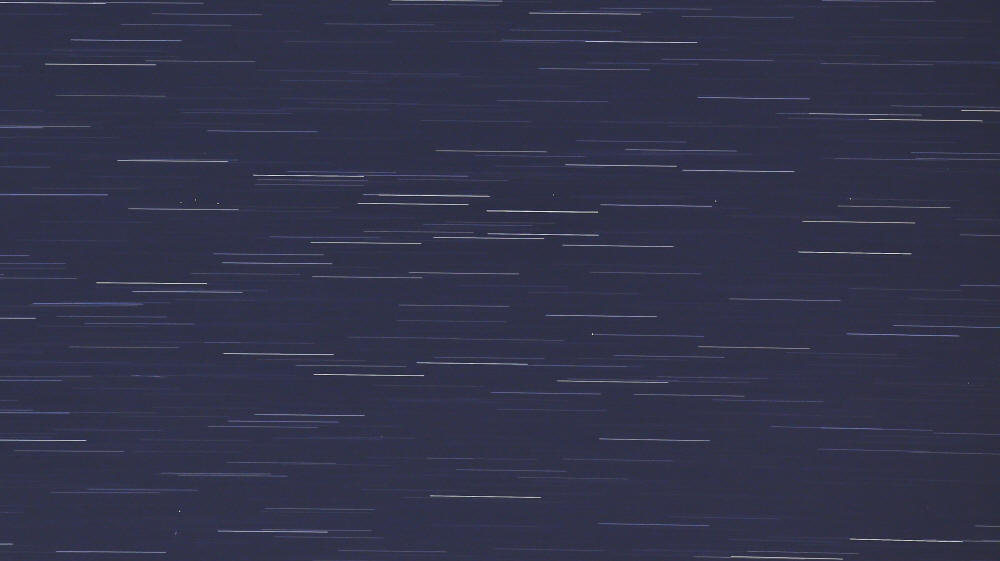 Inspired by Bob King's article at Sky & Telescope online, club member Joe Stieber captured this image of geostationary satellites from the New Jersey Pines on the morning of September 29, 2017. It was taken at 2:52 am EDT with a Canon 6D digital SLR camera (on a fixed tripod) and a Canon 200 mm f/2.8L lens, then cropped to roughly 60% of the original size (and to a 16:9 ratio), yielding a field about 6.6° wide x 3.7° high. It's a single frame exposed 180 seconds (3 minutes) at f/4, ISO 400 with 3800K white balance. Long exposure noise reduction was turned on, so a 3 minute dark frame was automatically taken and processed by the camera (otherwise, a number of random specks were present). Among the numerous star streaks generated by the long exposure, each about three-quarters of a degree long, there are number of point-like geostationary satellites (mouseover for markers). The field is centered near 67 Ceti, a magnitude 5.6 star at -6.3° declination (which was at 43° altitude, 169° azimuth at the time). Since geostationary satellites are nominally 22,300 miles above the earth's equator, parallax from viewing them here at 40°N latitude makes them appear to be about 6.3° south of the celestial equator. There was no attempt to identify the specific satellites.
Click here for the previous home page image.
Note: Club President, Roger Cowley, has published a new book, Gauging the Solar System: Measuring Astronomical Values for Yourself. Have fun and do more than just snap pictures of the sky! Available at Amazon too.
Click to contact the . Members are encouraged to submit their astronomical images to the webmaster for inclusion on the WAS Home Page. Be sure to include a description, date and time, as well as equipment and photo data.
USNO Solar System Object Apparent Disc