West Jersey Astronomical Society www.wasociety.us
Welcome to the Official Home Page of the West Jersey Astronomical Society (formerly known as the Willingboro Astronomical Society). Our club is in its 51st year of serving both the public and the amateur astronomers of the Delaware Valley. We have a long history of public education, star parties, interesting meetings, in-depth training and experienced leadership. We are a 501(c)(3) tax-exempt organization. Click here for membership information (dues can now be paid through PayPal).
Announcements Last Update: Friday, December 21, 2018
| | |
| --- | --- |
| Dec 21 | Solstice at 5:23 pm EST. The sun reaches its most southerly declination and Winter begins for the Northern Hemisphere. |
| Dec 21 | Informal Meeting, 7:30 pm at the Virtua Health and Wellness Center in Moorestown, NJ. As always, guests are welcome and no astronomical experience is necessary. Use the Main Entrance and check with the security guard who will direct you to the conference room. Note: Beginning in 2019, informal meetings will be on the third Thursday of the month (this is a change from the current third Friday). Here are the minutes for the December 7 meeting. |
| Dec 22 | Full Moon at 12:49 pm EST in northern Orion. |
| Jan 3 | Earth at Perihelion, 12:20 am EST, 0.983301252 au (91,403,562 miles) from the sun. |
| Jan 4 | Formal Meeting, 7:30 pm at the Virtua Health and Wellness Center in Moorestown, NJ. |
| Jan 5 | New Moon at 8:28 pm EST in Sagittarius. |
| Jan 8 | Astrophotography Meeting, 7:00 pm at the Virtua Health and Wellness Center in Moorestown, NJ. Dan McCauley will present Building a High Performance Camera Lens Astrophotography System for Narrowband and Broadband Imaging. |
Photo Spotlight Image posted 12.05.2018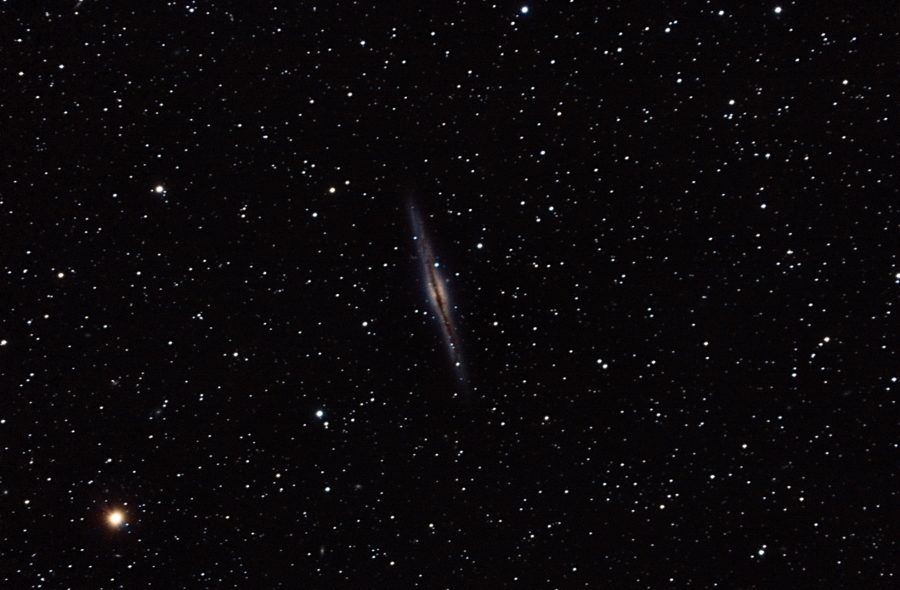 Club member Howard Schneck captured this image of the well-known edge-on spiral galaxy, NGC 891, which is located in the constellation Andromeda. This image was captured just before midnight on November 10, 2018, from the Steelmantown Observing Site in Belleplain State Forest, NJ. Howard used a ZWO ASI120MM-S camera and a Celestron Edge HD8, f/10 Schmidt-Cassegrain telescope on a Skywatcher NEQ6 mount using an Orion 60 mm, f/4 guide scope. It was exposed a total of one hour (12 x 5 minute subs). Click the image for a larger version.
Election Results for the 2019 WAS Officers.
In Memoriam
Bernie Kosher, a longtime member of the Willingboro and then West Jersey Astronomical Society, passed on September 4, 2018. He was a highly valued member of the club and a good friend of all the members who knew him. He will be very much missed (see our tribute page). The Bucks-Mont Astronomical Association has established The Bernie Kosher Scholarship Fund for accepting donations.
Click here for the previous home page image.
Click to contact the . Members are encouraged to submit their astronomical images to the webmaster for inclusion on the WAS Home Page. Be sure to include a description, date and time, as well as equipment and photo data.
USNO Solar System Object Apparent Disc
Star & Constellation Pronunciation Guides
Old SOHO Link Alternate SOHO Link