West Jersey Astronomical Society www.wasociety.us
Welcome to the Official Home Page of the West Jersey Astronomical Society (formerly known as the Willingboro Astronomical Society). Our club is in its 52nd year of serving both the public and the amateur astronomers of the Delaware Valley. We have a long history of public education, star parties, interesting meetings, in-depth training and experienced leadership. We are a 501(c)(3) tax-exempt organization. Click here for membership information (dues can now be paid through PayPal).
Announcements Last Update: Friday, October 04, 2019
| | |
| --- | --- |
| Oct 4 | Formal Meeting, but since the weather forecast looks quite favorable it's officially a "Go" that we will meet at the Clara Barton School in Cherry Hill, NJ, before 6:00 pm for a Private Star Watch. Here's the parking layout at the school. We will not be at our usual venue, the Virtua Health and Wellness Center in Moorestown, NJ. Here are the minutes from the Sept 19 meeting. |
| Oct 5 | Private Star Watch at Timothy Christian Academy in Easthampton, NJ (near Mt. Holly). Member scope support will be needed, check back for the weather call. |
| Oct 13 | Full Moon at 5:08 pm EDT in Cetus (although the moon will be nearly bisected by the Cetus-Pisces border). |
| Oct 17 | Informal Meeting at the Virtua Health and Wellness Center in Moorestown, NJ. Informal meetings in 2019 will continue to be on the third Thursday of the month. Starting in January 2020, informal meetings will return to the second Friday of the month. As always, guests are welcome and no astronomical experience is necessary. |
| Oct 25 | Public Star Watch at Atsion. (Note: Atsion, not Batsto). Here's a flyer about it. Check back the day of the event for the go/no-go weather call. If it's unfavorable on Friday the 25th, the backup date is Saturday, October 26. |
| Oct 26 | Member Star Watch at Atsion. Check back the day of the event for the go/no-go weather call. |
| Oct 27 | New Moon at 11:38 pm EDT in eastern Virgo. |
Photo Spotlight Image posted 9.24.2019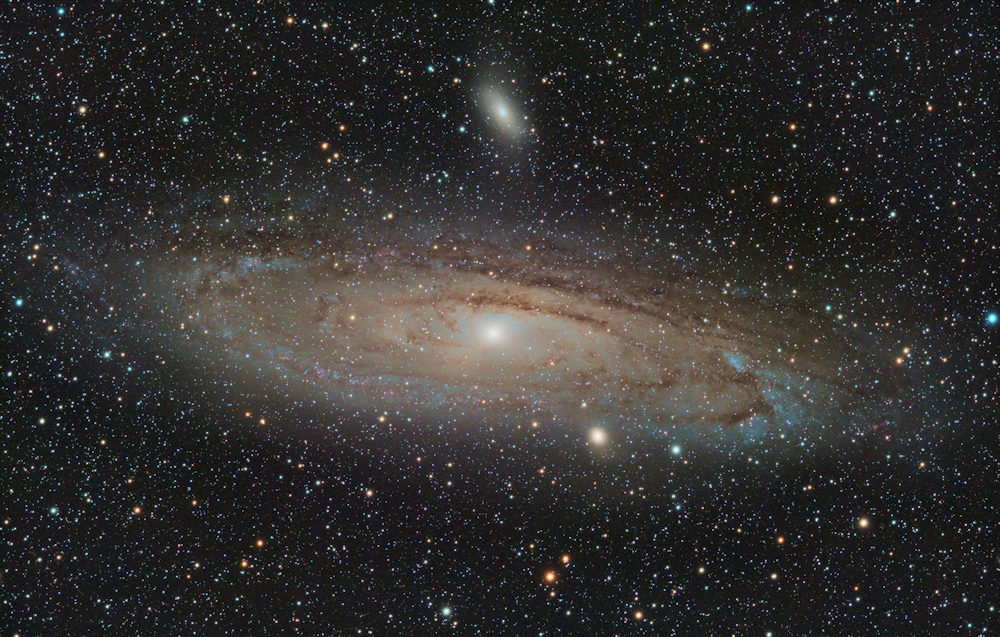 Club member Jim Nash captured this image of M31, The Andromeda Galaxy from the not particularly dark location of Blackwood, NJ. The image represents 12 hours of data captured with a ZWO ASI071MC-Pro digital astro-camera at the prime focus of a Stellarvue SVX80T triplet apo refractor. Mouseover for labels, click here for a larger version.
Click here for the previous home page image.
Click to contact the . Members are encouraged to submit their astronomical images to the webmaster for inclusion on the WAS Home Page. Be sure to include a description, date and time, as well as equipment and photo data.
USNO Solar System Object Apparent Disc
Star & Constellation Pronunciation Guides
Old SOHO Link Alternate SOHO Link