West Jersey Astronomical Society www.wasociety.us
Welcome to the Official Home Page of the West Jersey Astronomical Society (formerly known as the Willingboro Astronomical Society). Our club is in its 52nd year of serving both the public and the amateur astronomers of the Delaware Valley. We have a long history of public education, star parties, interesting meetings, in-depth training and experienced leadership. We are a 501(c)(3) tax-exempt organization. Click here for membership information (dues can now be paid through PayPal).
Announcements Last Update: Friday, December 27, 2019
| | |
| --- | --- |
| Dec 26 | New Moon at 12:13 am EST in Sagittarius. There will be an annular eclipse of the sun, but it will be visible primarily from Asia, not North America. |
| Jan 3 | Formal Meeting, 7:30 pm at the Virtua Health and Wellness Center in Moorestown, NJ. As always, guests are welcome and no astronomical experience is necessary. Click here for the 2020 officers. |
| Jan 3/4 | The Quadrantid Meteor Shower peaks on the morning of January 4; moonset is about 1 am EST in our area. |
| Jan 10 | Full Moon at 2:21 pm EST, in Gemini. |
| Jan 24 | New Moon at 4:42 pm EST in western Capricornus. |
| Jan 24 | Informal Meeting, 7:30 pm at the Virtua Health and Wellness Center in Moorestown, NJ. Informal meetings return to the third Friday of the month in 2020. |
Photo Spotlight Image posted 12.02.2019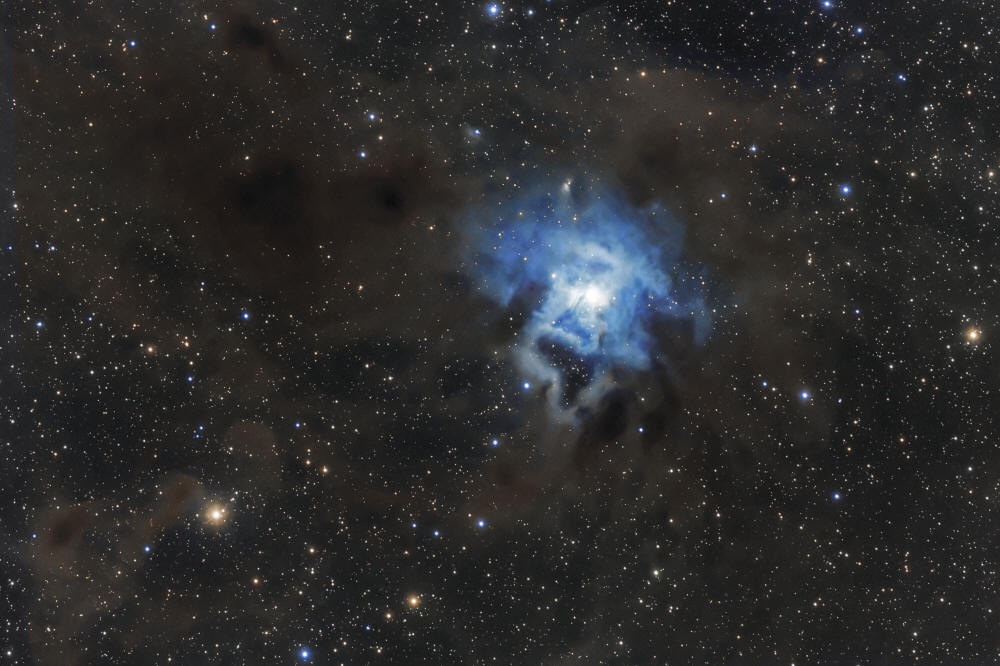 Club member Dan McCauley imaged the Iris Nebula in the constellation Cepheus. It's a diffuse nebula cataloged as LBN 487, which envelops the open cluster NGC 7023. This image was captured in June 2019 using a Takahashi TOA-130 apo refractor with an f/5.3 reducer and an ASI1600 monochrome digital astro-camera with Astrodon filters. It was exposed Lum = 90 x 2 min, Red = 15 x 2 min, Green = 15 x 2 min and Blue = 30 x 2 min, for a total of 300 minutes (5.0 hours) of exposure. Processed in PixInsight and mostly Photoshop.
Click here for the previous home page image.
Click to contact the . Members are encouraged to submit their astronomical images to the webmaster for inclusion on the WAS Home Page. Be sure to include a description, date and time, as well as equipment and photo data.
USNO Solar System Object Apparent Disc
Star & Constellation Pronunciation Guides
Old SOHO Link Alternate SOHO Link