West Jersey Astronomical Society www.wasociety.us
Welcome to the Official Home Page of the West Jersey Astronomical Society (additionally known as the Willingboro Astronomical Society). Our club is in its 55th year of serving both the public and the amateur astronomers of the Delaware Valley. We have a long history of public education, star parties, interesting meetings, in-depth training and experienced leadership. We are a 501(c)(3) tax-exempt organization. Click here for membership information, including a PayPal link to pay dues (click here to make a separate donation). Members in good standing have access to the gated Barnegat Road Observing Site in the dark New Jersey Pines, while Atsion Field in the Pines is available to those with valid membership cards.
Announcements Last Update: Saturday, July 23, 2022
| | |
| --- | --- |
| July 23 | Public Star Watch at Batsto Village in Wharton State Forest, NJ. Starting time is 8:00 pm. Tonight's weather forecast looks good, so the Star Watch is GO! Here's a timeline of selected objects. |
| July 28 | New Moon at 1:55 pm EDT in Cancer. |
| Aug 5 | Formal Meeting, at the Virtua Health and Wellness Center in Moorestown, NJ, 7:30 pm. We are now meeting in-person at Virtua, but it will also be simulcast via Zoom (log-on information is posted to the WAS e-group). Guests are welcome at Virtua. |
| Aug 11 | Full Moon at 9:36 pm EDT in Capricornus. |
| Aug 19 | Informal Meeting, at the Virtua Health and Wellness Center in Moorestown, NJ, 7:30 pm. |
| Note: | At the Formal Meeting on July 1, 2022, we were saddened to learn that well-respected member Marcus Staloff had passed away in May 2020, age 88. Here's a picture of Marcus at the 2016 WAS picnic (photo by Val K). He's holding drawings of himself by the husband and daughter of our club's secretary. In the background is another late member, Bernie Kosher. |
Photo Spotlight Image posted 7.01.2022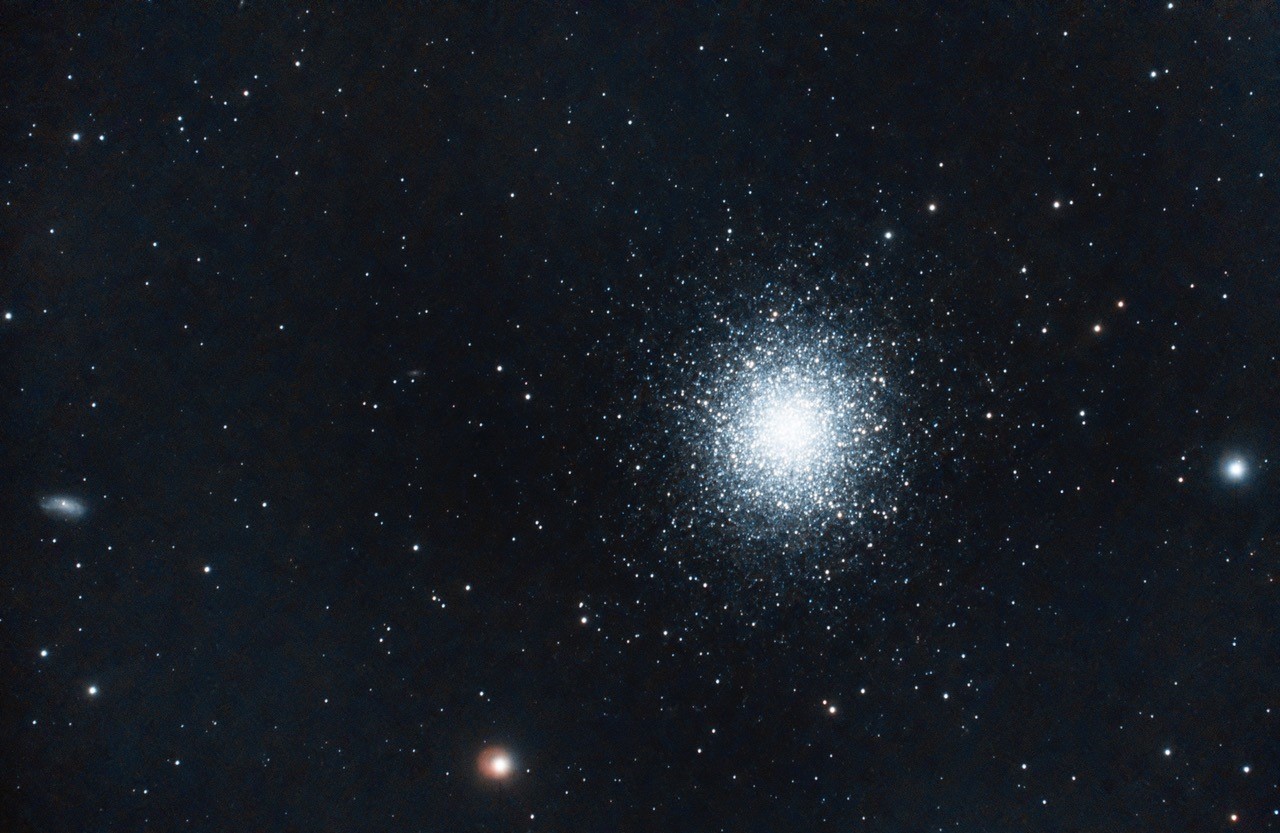 Club member Howard Schneck captured this image of Messier 13, the Great Globular Cluster in Hercules on June 5, 2022, from his light-polluted backyard in Mt Laurel, NJ. M13 is about 22,000 light years away and has a population of several-hundred-thousand stars. Nearby M13 in this view are the galaxies NGC 6207 and IC 4617, mouseover for labels. Howard captured this image with a Canon EOS T3 digital SLR camera (with a clip-in light pollution filter) at the prime focus of a Celestron Edge HD8 telescope, with a focal reducer for an effective focal length of 1488 mm, on a SkyWatcher NEQ6 Pro German equatorial mount. Guiding was accomplished with an Orion 60 mm guidescope (240 mm focal length) and a ZWO ASI120MM-S digital astro-camera. Integration time was 62 minutes (21 x 2 min subs) with 30 darks and flats. The Field of view is 49 arc minutes wide x 32 arc minutes high; image scale is 0.72 arc sec/pixel. Dithering was used for every sub.
The image below was cropped from the image above and shows M13's Propeller, a pareidolia effect. Mouseover for labeling.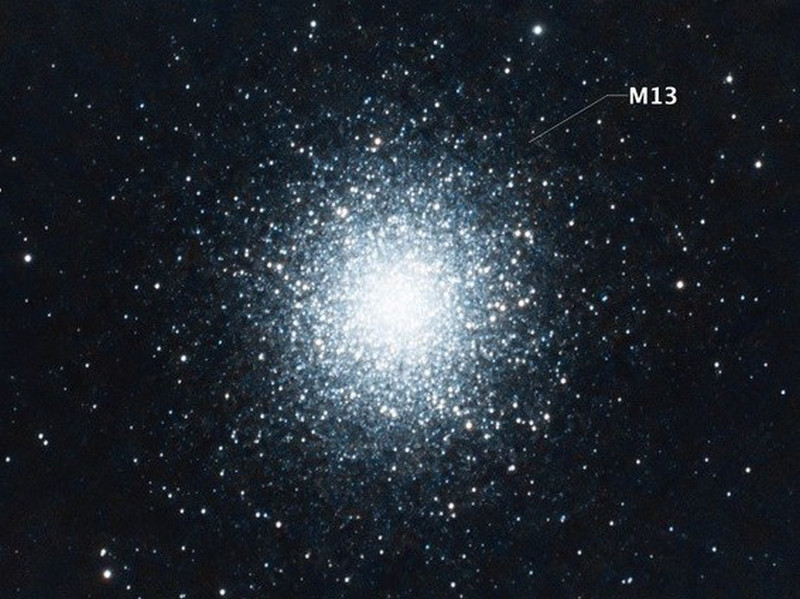 Sky & Telescope's This Week's Sky at a Glance, July 22 to 30, 2022.
Click here for the previous home page image.
Click to contact the . Members are encouraged to submit their astronomical images to the webmaster for inclusion on the WAS Home Page. Be sure to include a description, date and time, as well as equipment and photo data.
Astrospheric Forecast for the Barnegat Road Observing Site

Star & Constellation Pronunciation Guides
Lunar X Predictions (UT)
United States Naval Observatory, Astronomical Applications