West Jersey Astronomical Society www.wasociety.us
Welcome to the Official Home Page of the West Jersey Astronomical Society (additionally known as the Willingboro Astronomical Society). Our club is in its 55th year of serving both the public and the amateur astronomers of the Delaware Valley. We have a long history of public education, star parties, interesting meetings, in-depth training and experienced leadership. We are a 501(c)(3) tax-exempt organization. Click here for membership information, including a PayPal link to pay dues (click here to make a separate donation). Members in good standing have access to the gated Barnegat Road Observing Site in the dark New Jersey Pines, while Atsion Field in the Pines is available to those with valid membership cards.
Announcements Last Update: Friday, October 21, 2022
| | |
| --- | --- |
| Oct 21 | Informal Meeting at the Virtua Health and Wellness Center in Moorestown, NJ, 7:30 pm. We are now meeting in-person at Virtua and guests are welcome. We no longer simulcast via Zoom. |
| Oct 22 | Member Star Watch at the Barnegat Rd Observing Site, Saturday, Sunday Oct 22, 23 and/or Friday Oct 28 depending on the weather; status will posted on the club e-group. Note: This is a members-only event. |
| Oct 25 | New Moon at 6:49 am EDT in eastern Virgo. |
| Oct 29 | Public Star Watch at Atsion Field in Wharton State Forest, NJ. Starting time is 6:30 pm. There is no fee or registration, just attend. Check back here on the day of the event for the Go/No-Go weather call. This will be the final Public Star Watch scheduled for the 2022 season, so don't miss it! |
| Nov 4 | Formal Meeting at the Virtua Health and Wellness Center in Moorestown, NJ, 7:30 pm. |
| Nov 6 | Standard Time Resumes, 2 am EDT becomes 1 am EST. "Spring ahead, Fall back." |
| Nov 8 | Full Moon at 6:02 am EST in Aries with a Total Lunar Eclipse. First umbral contact will be at 4:09 am EST, totality begins at 5:16 am, maximum eclipse is at 5:59 am and totality ends at 6:42 am. For Moorestown, NJ, nominally 40°N-75°W, the Moon sets at 6:44 am (when the upper limb is at the apparent horizon). |
Photo Spotlight Image posted 9.26.2022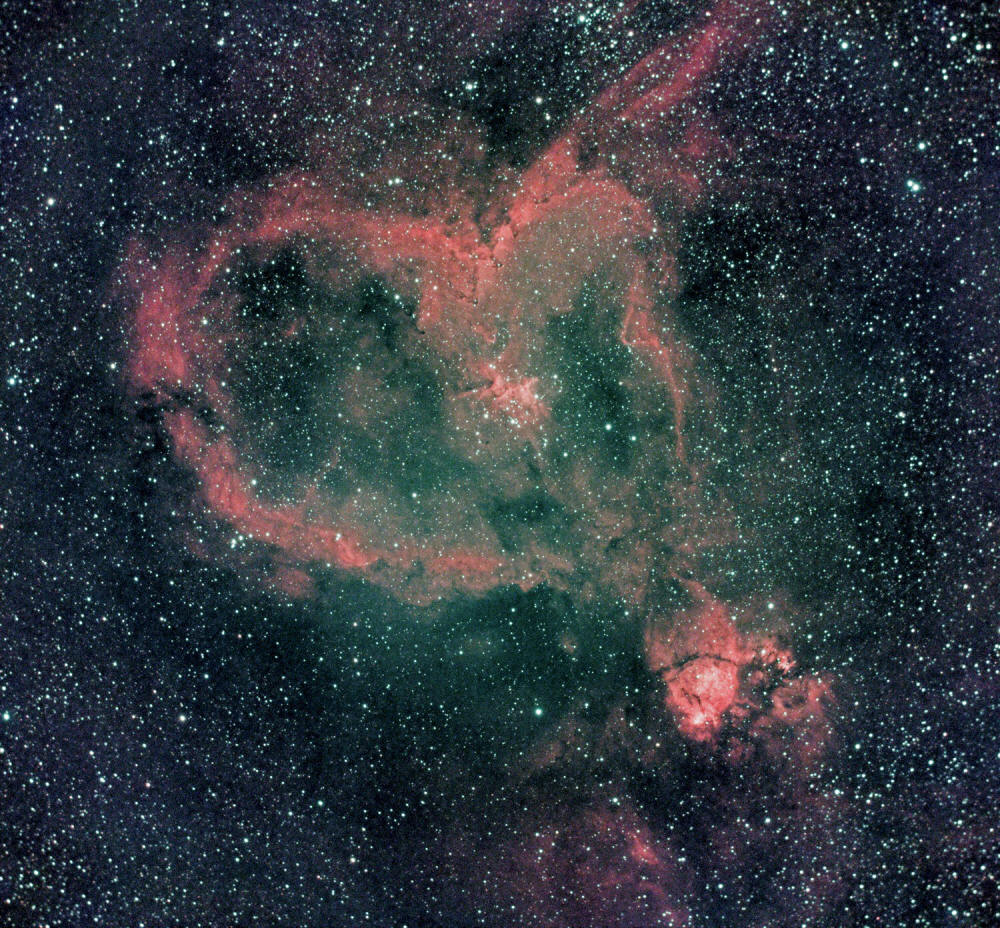 From Florida, club member Jim Mack captured this image of emission nebula IC 1805, the Heart Nebula, in Cassiopeia. Taken with a William Optics 66 mm apo refractor and a ZWO ASI2600MC-P digital astro-camera. The total exposure was 100 minutes (20 x 300 second subs). Guiding provided by an Astro-Tech 111 mm refractor and an ASI290 camera, system control accomplished with ASI Air Pro.
Click here for the previous home page image.
Sky & Telescope's This Week's Sky at a Glance, Oct 21 to 29, 2022. The USNO's The Sky This Week, Oct 18, 2022.
Click to contact the . Members are encouraged to submit their astronomical images to the webmaster for inclusion on the WAS Home Page. Be sure to include a description, date and time, as well as equipment and photo data.
Astrospheric Forecast for the Barnegat Road Observing Site

Star & Constellation Pronunciation Guides (updated Sept 7, 2022)
Lunar X Predictions (UT)
United States Naval Observatory, Astronomical Applications