West Jersey Astronomical Society www.wasociety.us
Welcome to the Official Home Page of the West Jersey Astronomical Society (additionally known as the Willingboro Astronomical Society). Our club is in its 56th year of serving both the public and the amateur astronomers of the Delaware Valley. We have a long history of public education, star parties, interesting meetings, in-depth training and experienced leadership. We are a 501(c)(3) tax-exempt organization. Click here for membership information, including a PayPal link to pay dues (click here to make a separate donation). Members in good standing have access to the gated Barnegat Road Observing Site in the dark New Jersey Pines, while Atsion Field in the Pines is available to those with valid membership cards.
Announcements Last Update: Monday, January 23, 2023
Photo Spotlight Images posted 1.01.2023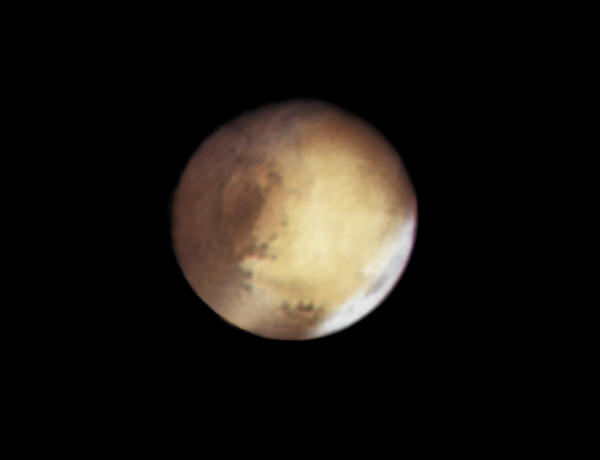 Club Vice President (and now former President) Al Meloni, captured this image of Mars on December 20, 2022, about 10 pm EST, from his Merchantville, NJ, backyard with an 18-inch, fork-mounted Newtonian telescope (which he built himself, including grinding the mirror). At the time, Mars was 16.0 arc seconds apparent diameter, a little smaller than its maximum 17.2 arc seconds just before opposition on December 8. He used a ZWO ASI174 monochromatic astro camera, capturing separate Red-Green-Blue-Luminance AVI videos, which were combined in Photoshop. Features present include Solis Lacus, Valles Marinaris and likely Olympus Mons. Also note the Northern Polar Cap at the bottom right.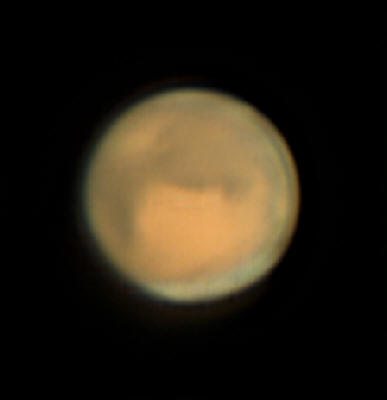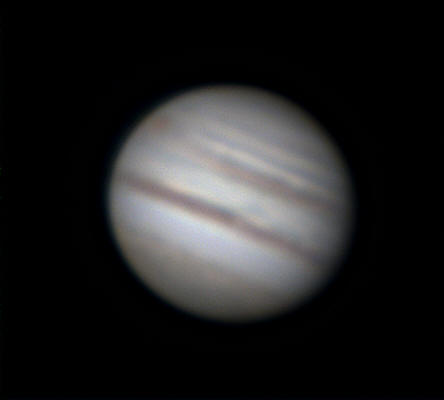 Club member Howard Schneck also captured images of Mars (left) and Jupiter (right) on November 23, 2022, from his backyard in Mt Laurel, NJ. Florida. In each case, Howard used an 8-inch Celestron Edge Schmidt-Cassegrain telescope with an image train consisting of a ZWO ASI0224MC color astro camera, a ZWO ADC (atmospheric dispersion corrector) with an infrared filter and a 2x Barlow. Both images are south up. Mars is a stack of about 6,300 frames and was 17.1 arc seconds apparent diameter at the time. The North Polar Cap is at the bottom and one of Mars' most prominent dark features, Syrtis Major, is near the western (left) limb. Jupiter is a stack of about 2,800 images and was 44.2 arc seconds apparent diameter at the time. The Great Red Spot is along the South Equatorial Belt at the western (left) limb.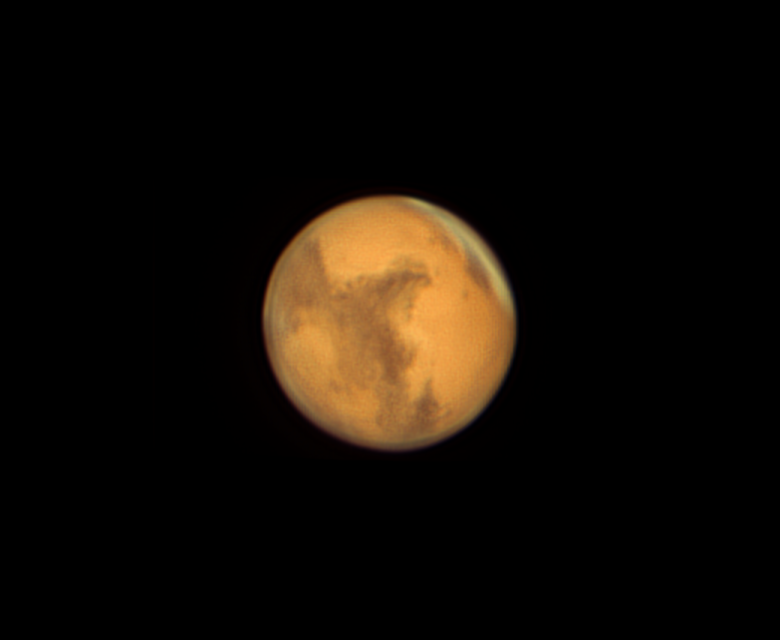 Club member Grant Blair captured this image of Mars during a brief period of much-better-than-average seeing approaching 1:00 am EST on December 5, 2022, from his Red Lion backyard in the New Jersey Pinelands. He used a 12-inch Schmidt-Cassegrain telescope with a TeleVue 2x Barlow and a ZWO ASI290MC one-shot-color camera. Roughly 66,000 frames were stacked to obtain this result. The North Polar Cap is to the upper-right and the prominent dark feature, Syrtis Major, is near the central meridian.
Click here for the previous home page image.
Sky & Telescope's This Week's Sky at a Glance, January 20 to 29, 2023. The USNO's The Sky This Week, January 17, 2023.
Click to contact the . Members are encouraged to submit their astronomical images to the webmaster for inclusion on the WAS Home Page. Be sure to include a description, date and time, as well as equipment and photo data.
Astrospheric Forecast for the Barnegat Road Observing Site

Star & Constellation Pronunciation Guides (updated Sept 7, 2022)
Lunar X Predictions (UT)
United States Naval Observatory, Astronomical Applications