West Jersey Astronomical Society www.wasociety.us
Welcome to the Official Home Page of the West Jersey Astronomical Society (additionally known as the Willingboro Astronomical Society). Our club is in its 56th year of serving both the public and the amateur astronomers of the Delaware Valley. We have a long history of public education, star parties, interesting meetings, in-depth training and experienced leadership. We are a 501(c)(3) tax-exempt organization. Click here for membership information, including a PayPal link to pay dues or make a separate donation (Note: PayPal is temporarily not functioning). Members in good standing have access to the gated Barnegat Road Observing Site in the dark New Jersey Pines.
President:

Vice President:

Secretary:

Treasurer:

Ken Weber

Al Meloni

Suzanne Leap

Wade Evans

Election Results for the 2024 WAS Officers.
Announcements Last Update: Monday, December 04, 2023
| | |
| --- | --- |
| Dec 7 | Earliest Sunset of the year, 4:35 pm EST, for 40°N-75°W, although the Sun sets at 4:35 pm from December 1 to 14 inclusively. Per the USNO, computations are only accurate to the nearest minute or so because of unpredictable atmospheric conditions affecting the refraction of sunlight near the horizon. |
| Dec 8 | The annual Holiday Dinner will be held at the SweetWater Restaurant, Cinnaminson, NJ, 6:00 pm (members only). |
| Dec 12 | New Moon at 6:32 pm EST in eastern Ophiuchus. |
| Dec 13 | The Geminid Meteor Shower, probably the best of the year, peaks overnight, December 13-14. |
| Dec 15 | Informal Meeting at the Virtua Health and Wellness Center, Conference Ctr, Room 155A, Moorestown, NJ, 7:30 pm EST. Guests are welcome. |
| Dec 21 | Solstice at 10:27 pm EST, the Winter Solstice for the Northern Hemisphere. The Sun will be in Sagittarius, near M20. |
| Dec 26 | Full Moon at 7:33 pm EDT in Gemini, but its northern limb spills into Auriga since the Moon's +4.4° ecliptic latitude is near then lunar orbit's maximum northerly tilt with respect to the ecliptic (+5.1°) and the ecliptic is near its maximum northerly tilt of +23.4° declination at the June solstice point in Taurus, close to the Gemini border, about 6° away. |
| Jan 5 | Formal Meeting, at the Virtua Health and Wellness Center, Conference Ctr, Room 155A, Moorestown, NJ, 7:30 pm EDT. Guests are welcome. |
Photo Spotlight Image posted 11.19.2023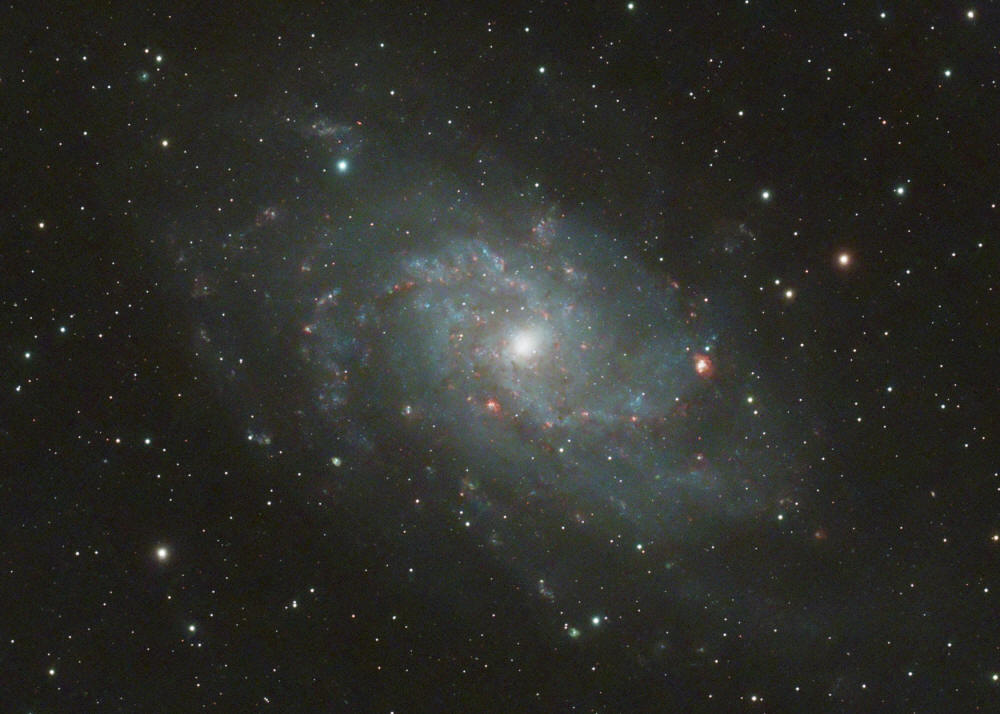 Club member Howard Schneck captured this image of the Triangulum Galaxy, M33, on November 7, 2023, from his Bortle 7 backyard in Mt Laurel, NJ. Also visible are a number of reddish H-II regions, including the prominent NGC 604, mouseover for labels. The Triangulum Galaxy is a spiral galaxy 2.7 million light-years away and under ideal sky conditions is one of the farthest objects that can be seen by the unaided human eye. It may be home to 40 billion stars compared with 400 billion in our own Milky Way. This image was captured using an ASIAIR+ and RedCat 71 with ZWO ASI2600MC camera with a Antlia Triband RGB filter riding a Sky-Watcher NEQ6 Pro mount. Guiding was done with a RedCat UniGuide and ZWO ASI120MM-S guide camera. Integration time was about 3 hours (62 x 3 min). Calibration was done with PixInsight using 20 dark, 20 flat, and 20 dark-flat sub-frames. Click here for a larger version.
Click here for the previous home page image.
Sky & Telescope's This Week's Sky at a Glance, December 1 to 9, 2023.
USNO's The Sky This Week, November 28, 2023, Roaming the Sky with a Square.
Get the monthly Evening Sky Map.
Click to contact the . Members are encouraged to submit their astronomical images to the webmaster for inclusion on the WAS Home Page. Be sure to include a description, date and time, as well as equipment and photo data.
Astrospheric Forecast for the Barnegat Road Observing Site...

Star & Constellation Pronunciation Guides
United States Naval Observatory, Astronomical Applications
Lunar X Predictions (UT)