West Jersey Astronomical Society www.wasociety.us
Welcome to the Official Home Page of the West Jersey Astronomical Society (formerly known as the Willingboro Astronomical Society). Our club is in its 53rd year of serving both the public and the amateur astronomers of the Delaware Valley. We have a long history of public education, star parties, interesting meetings, in-depth training and experienced leadership. We are a 501(c)(3) tax-exempt organization. Click here for membership information (dues can now be paid through PayPal).
Announcements Last Update: Wednesday, March 11, 2020
| | |
| --- | --- |
| Mar 14 | Member Star Watch at Atsion. Check back for the go/no-go weather call on March 14. |
| Mar 19 | Equinox at 11:50 pm EDT, the Spring (or Vernal) Equinox for the Northern Hemisphere. |
| Mar 20 | Informal Meeting, 7:30 pm at the Virtua Health and Wellness Center in Moorestown, NJ. As always, guests are welcome and no astronomical experience is necessary. |
| Mar 21 | Public Star Watch at Batsto, the first for 2020! Check back for the go/no-go weather call on March 21. |
| Mar 24 | New Moon at 5:28 am EDT in Pisces, near the Cetus border. Omega Centauri transits at 2:19 am EDT. The March new moon period is the time for a Messier Marathon at mid-northern latitudes. |
| Apr 3 | Formal Meeting, 7:30 pm at the Virtua Health and Wellness Center in Moorestown, NJ. |
| Apr 4-5 | NEAF, the Northeast Astronomy Forum at Rockland Community College, Suffern, NY. Special Statement. But note that on March 11, this message appeared on the NEAF page: "Please stand by for important announcements regarding state and local restrictions and how they will be affecting NEAF and NEAIC 2020. The RAC Team." |
| Apr 7 | Full Moon at 10:35 pm EDT in Virgo. |
Photo Spotlight Image posted 2.01.2020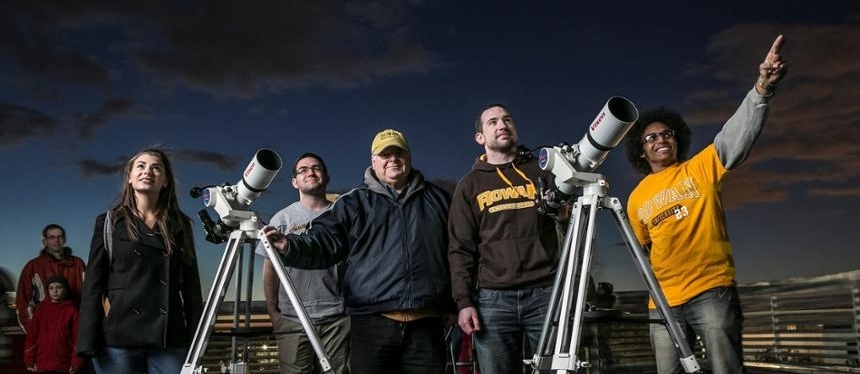 We are saddened to report the passing of Lloyd Black, past president of the West Jersey (formerly Willingboro) Astronomical Society. Lloyd was a professor of astronomy at Rowan University, and as shown above (center, with hat), engaged in one of his greatest passions, astronomical outreach. Many WAS members had joined him on the rooftop at the Rowan Observatory for these outreach programs. Here's an excerpt from the Edelman Planetarium newsletter...
It is with great sadness that we say goodbye to our dear friend and colleague, Lloyd Black.
Lloyd began working as an adjunct professor of Astronomy at Rowan over 15 years ago and was a huge supporter of our public outreach programs. For 15 years he carefully curated our collection of telescopes and accessories in the observatory selecting only the best telescopes for the job. In the 2013 - 2014 academic year, he formed the Rowan Astronomy Club for Rowan University students interested in learning more about astronomy and telescopes. He single-handedly trained every student member on telescope operation and was always on the observation deck during open house nights to help out.
Over the years, he held countless public outreach events for the Philadelphia Science Festival, observatory open house nights, eclipses and more. He had a passion for Astronomy which he loved to share with students and the public.
Lloyd was also responsible for the creation of our curriculum for Rowan's online Astronomy course, making Astronomy accessible to learners both on and off campus.
Lloyd will be remembered by the countless people who had the pleasure of getting to interact with and learn from him. He did a lot, both overt and behind the scenes, in helping to push the boundaries of Rowan's Astronomy program. It would be fair to say that it would not be what it is today without Lloyd's tireless efforts.
Click here for the previous home page image.
Click to contact the . Members are encouraged to submit their astronomical images to the webmaster for inclusion on the WAS Home Page. Be sure to include a description, date and time, as well as equipment and photo data.
Dark time, February 02 to 15, 2020.
USNO Solar System Object Apparent Disc
Star & Constellation Pronunciation Guides
Old SOHO Link Alternate SOHO Link