West Jersey Astronomical Society www.wasociety.us
Welcome to the Official Home Page of the West Jersey Astronomical Society (formerly known as the Willingboro Astronomical Society). Our club is in its 53rd year of serving both the public and the amateur astronomers of the Delaware Valley. We have a long history of public education, star parties, interesting meetings, in-depth training and experienced leadership. We are a 501(c)(3) tax-exempt organization. Click here for membership information (dues can now be paid through PayPal).
Announcements Last Update: Wednesday, March 18, 2020
| | |
| --- | --- |
| Mar 19 | Equinox at 11:50 pm EDT, the Spring (or Vernal) Equinox for the Northern Hemisphere. |
| Mar 20 | Informal Meeting, 7:30 pm at the Virtua Health and Wellness Center in Moorestown, NJ, has been cancelled because of venue unavailability (due to coronavirus concerns), as are all meetings there until June 2020. |
| Mar 21 | Public Star Watch at Batsto. This event has been cancelled due to coronavirus concerns. The status of future Star Watches will be revisited when the time comes. |
| Mar 24 | New Moon at 5:28 am EDT in Pisces, near the Cetus border. Omega Centauri transits at 2:19 am EDT. The March new moon period is the time for a Messier Marathon at mid-northern latitudes. |
| Apr 4 | NEAF, the Northeast Astronomy Forum; however, the physical event has been postponed due to coronavirus concerns. Instead, NEAF The Virtual Experience will be a one-day online event on April 4. Update March 18: Physical NEAF has been rescheduled to September 12-13 at Rockland Community College, Suffern, NY. |
| Apr 7 | Full Moon at 10:35 pm EDT in Virgo. |
Photo Spotlight Image posted 3.11.2020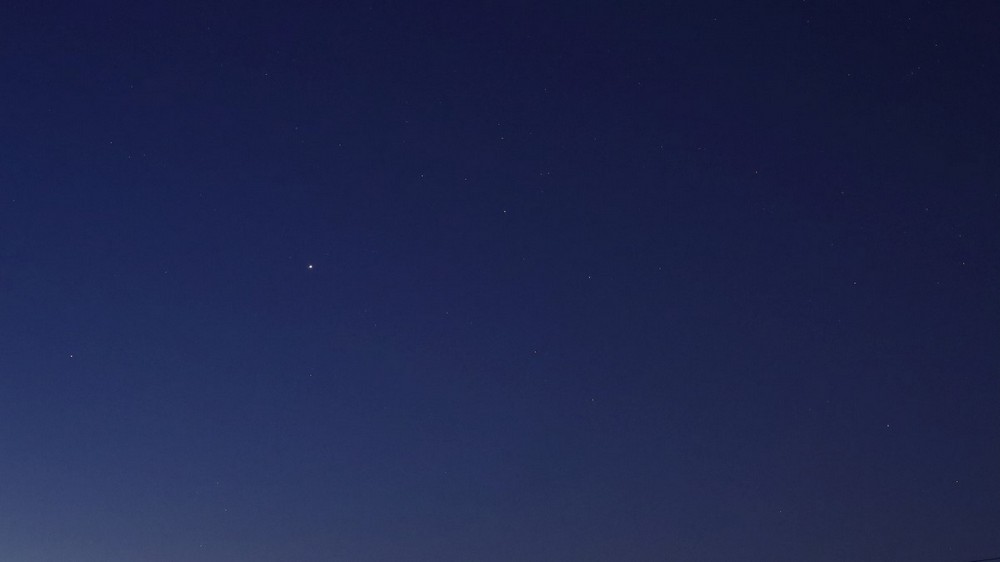 The planets Saturn, Jupiter and Mars, were close together along the ecliptic in the constellation Sagittarius on March 8, 2020. Jupiter was 8° west (to the right) of Saturn and Mars was 6.4° west of Jupiter (mouseover for labels). This image of them was captured by club member Joe Stieber at 6:28 am EDT from Swede Run in Moorestown, NJ, with a Canon EOS RP mirrorless digital camera (on a fixed tripod) and a Sigma 50 mm f/1.4 Art lens. It's a single raw frame exposed 1/2 second at f/4.0, ISO 6400 and 4200K white balance.
On March 18, Jupiter, Mars and the Crescent Moon will be close together, close enough to all fit in a typical binocular field. Mars and Jupiter will be at conjunction on March 20, then Mars and Saturn will be at conjunction on March 31, less than a degree apart on both occasions. Mars is moving relatively quickly eastward along the ecliptic now. Jupiter is moving eastward more slowly, and Saturn even slower (generally, as they do go through retrograde loops around opposition), and they will be at conjunction on December 21, 2020, just 0.1° apart. Note that December 21 is also the day of the solstice, the winter solstice for the northern hemisphere.
Click here for the previous home page image.
Click to contact the . Members are encouraged to submit their astronomical images to the webmaster for inclusion on the WAS Home Page. Be sure to include a description, date and time, as well as equipment and photo data.
Dark time, March 8 to 21, 2020.
USNO Solar System Object Apparent Disc
Star & Constellation Pronunciation Guides
Old SOHO Link Alternate SOHO Link