West Jersey Astronomical Society www.wasociety.us
Welcome to the Official Home Page of the West Jersey Astronomical Society (formerly known as the Willingboro Astronomical Society). Our club is in its 53rd year of serving both the public and the amateur astronomers of the Delaware Valley. We have a long history of public education, star parties, interesting meetings, in-depth training and experienced leadership. We are a 501(c)(3) tax-exempt organization. Click here for membership information (dues can now be paid through PayPal).
Announcements Last Update: Friday, September 04, 2020
| | |
| --- | --- |
| Sept 4 | Formal Meeting; online via Zoom, opening at 7:30 pm (log-on information will be posted to the WAS e-groups). Physical meetings at the Virtua Health and Wellness Center in Moorestown, NJ, remain suspended at least through September 2020 due to coronavirus concerns. |
| Sept 17 | New Moon at 7:00 am EDT in Virgo. |
| Sept 18 | Informal Meeting; online via Zoom, opening at 7:30 pm. |
| Sept 18 | Public Star Watch at Atsion. This is our annual Friday night Public Star Watch at Atsion. However, due to the coronavirus situation, the status is indeterminate and it's not likely to be held. Check back for a final decision. |
| Sept 19 | Member Star Watch at Atsion. This is also the weather backup date for the Sept 18 Public Star Watch, but it's status is indeterminate too, and not likely to be held due to the coronavirus situation. |
| Sept 22 | Equinox at 9:31 am EDT in Virgo, the Autumnal Equinox for the Northern Hemisphere. The Sun will be at an apparent right ascension of 12h 00m and a declination of 00° 00', or 180° ecliptic longitude, 0° ecliptic latitude. |
| Oct 1 | Full Moon at 5:05 pm EDT in northwest Cetus. |
Photo Spotlight Image posted 8.29.2020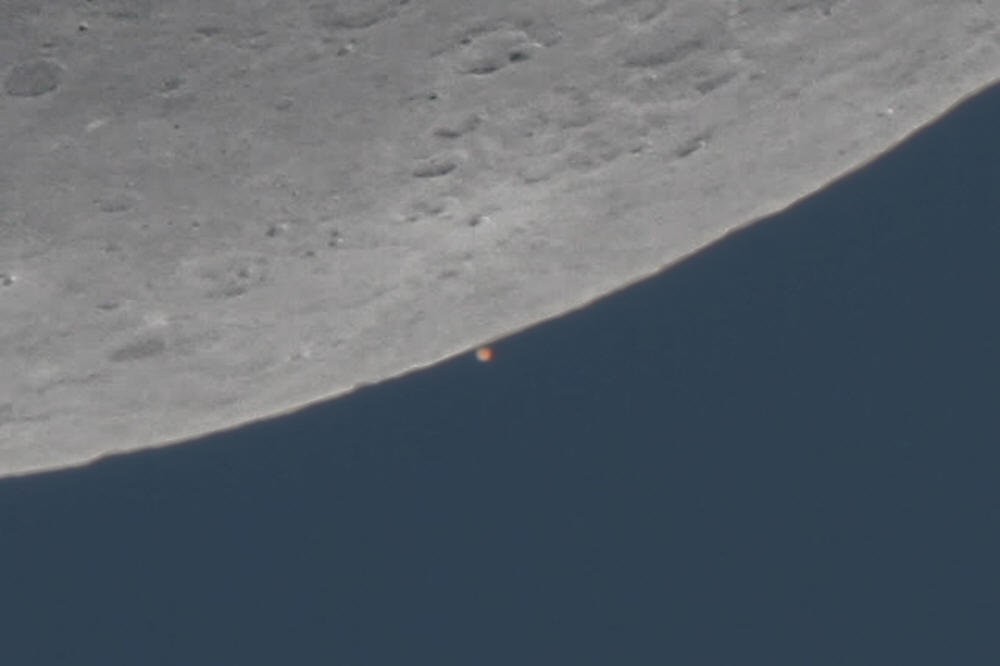 Jim Mack captured this image of the waning crescent Moon creeping up on the distant red planet Mars, just before the start of a lunar occultation at 7:08 am EST on February 18, 2020, as seen from the Tampa Bay area of Florida. Jim used a Canon T2i digital SLR camera in video mode and an Astro-Tech AT111 f/7 triplet apo refractor. This is 120 frames stacked then tweaked in Photoshop.
Mars has a mean diameter of 4,212 miles compared to 2,159 miles for the Moon (Mars is 1.95x the diameter). However, at the time of the image, Mars was 164,160,000 miles away compared to 250,450 miles for the moon (Mars was 655x as far away), so Mars presented an apparent angular size of just 5.3 arc seconds vs. 1,778.2 arc seconds (29'38.2") for the Moon, which had an apparent diameter 336x that of Mars.
Click here for the previous home page image.
Click to contact the . Members are encouraged to submit their astronomical images to the webmaster for inclusion on the WAS Home Page. Be sure to include a description, date and time, as well as equipment and photo data.
USNO Solar System Object Apparent Disc
(this link may be inoperative as the USNO websites are undergoing modernization; estimated completion is now Fall 2020)
Star & Constellation Pronunciation Guides
Old SOHO Link Alternate SOHO Link