West Jersey Astronomical Society www.wasociety.us
Welcome to the Official Home Page of the West Jersey Astronomical Society (formerly known as the Willingboro Astronomical Society). Our club is in its 54th year of serving both the public and the amateur astronomers of the Delaware Valley. We have a long history of public education, star parties, interesting meetings, in-depth training and experienced leadership. We are a 501(c)(3) tax-exempt organization. Click here for membership information (dues can now be paid through PayPal).
Announcements Last Update: Monday, February 08, 2021
| | |
| --- | --- |
| Feb 8 | The 2021 Winter Star Party will be a virtual event, running from Feb 8 to 11 at 7 to 11 pm EST each day. Click here to register and be eligible for door prizes. |
| Feb 9 | Astrophotography Meeting, online via Zoom, from 7:00 to 9:00 pm. Due to unforeseen circumstances, this meeting has been postponed. |
| Feb 11 | New Moon at 2:06 pm EST in eastern Capricornus, a few degrees north of the stars Deneb Algedi and Nashira. Omega Centauri (NGC 5139) transits the meridian about 4 am EST. |
| Feb 19 | Informal Meeting, online via Zoom, opening at 7:30 pm (log-on information will be posted to the WAS e-group). Physical meetings at the Virtua Health and Wellness Center in Moorestown, NJ, remain suspended indefinitely (at least through the end of April 2021) due to COVID-19 restrictions at the venue. |
| Feb 27 | Full Moon at 3:17 am EST in Leo, in the midst of the underbelly galaxy trio of M95, 96 & 105. |
| Mar 5 | Formal Meeting, online via Zoom, opening at 7:30 pm (log-on information will be posted to the WAS e-group). |
| Note: | The status of 2021 Public Star Watches at Batsto and Member Star Watches at Atsion is still indeterminate due to COVID-19 restrictions in the New Jersey State Forests. |
Photo Spotlight Image posted 1.13.2021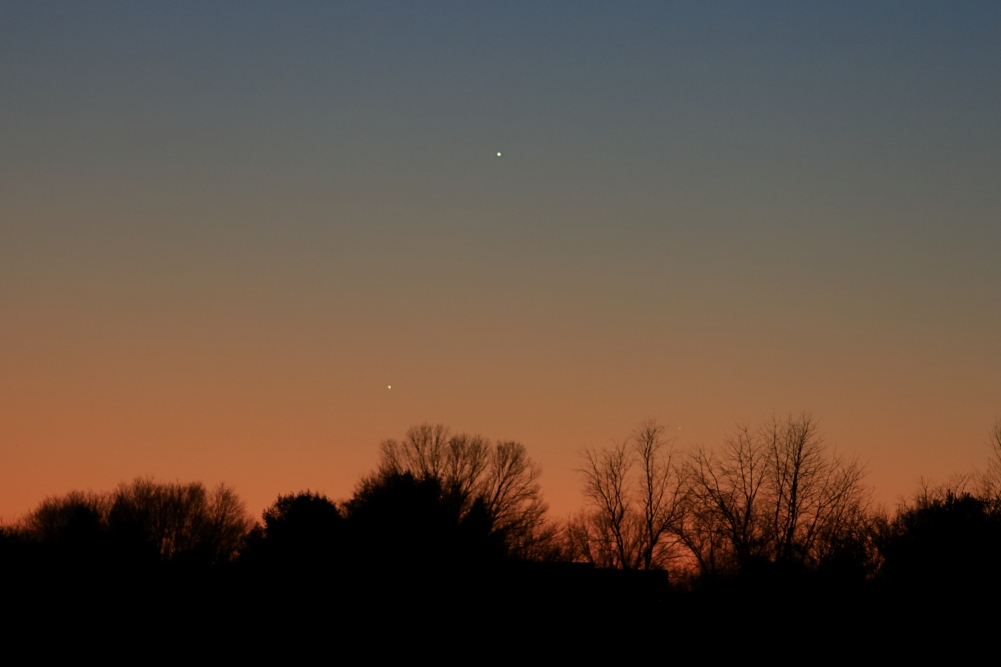 Club member Joe Stieber captured this image of the planetary trio, Jupiter, Saturn and Mercury on January 10, 2021. They formed a nearly equilateral triangle, roughly 2° on a side, over the southwest horizon after sunset. Jupiter and Saturn had a "Great Conjunction" on December 21, 2020 (separated by just 0.1°), while Mercury was in conjunction with Saturn on January 9 and Jupiter on January 11, so this recent close grouping is not a Triple Conjunction as it is so often described. This snapshot was taken at 5:37 pm EST from Swede Run in Moorestown, NJ, with a Canon EOS RP mirrorless digital camera and a Canon 200 mm f/2.8L telephoto lens on a fixed tripod. It was exposed 1/50 second at f/2.8, ISO 1600. It's cropped to 64% of the original linear dimensions for a field 6.6° wide x 4.4° high. Mouseover for labels.
Click here for the previous home page image.
Click to contact the . Members are encouraged to submit their astronomical images to the webmaster for inclusion on the WAS Home Page. Be sure to include a description, date and time, as well as equipment and photo data.
USNO Solar System Object Apparent Disc
(this link may be inoperative as the USNO website is undergoing modernization; estimated completion is now Fall 2020)
Star & Constellation Pronunciation Guides
Old SOHO Link Alternate SOHO Link