West Jersey Astronomical Society www.wasociety.us
Welcome to the Official Home Page of the West Jersey Astronomical Society (additionally known as the Willingboro Astronomical Society). Our club is in its 54th year of serving both the public and the amateur astronomers of the Delaware Valley. We have a long history of public education, star parties, interesting meetings, in-depth training and experienced leadership. We are a 501(c)(3) tax-exempt organization. Click here for membership information (dues can now be paid through PayPal).
Announcements Last Update: Saturday, March 06, 2021
| | |
| --- | --- |
| Mar 13 | New Moon at 5:21 am EST in eastern Aquarius. The March New Moon is the ideal time for a Messier Marathon. |
| Mar 14 | Daylight Savings Time begins; at 2:00 am EST, clocks move forward to 3:00 am EDT. |
| Mar 19 | Informal Meeting, online via Zoom, opening at 7:30 pm (log-on information will be posted to the WAS e-group). Physical meetings at the Virtua Health and Wellness Center in Moorestown, NJ, remain suspended indefinitely (at least through the end of April 2021) due to COVID-19 restrictions at the venue. |
| Mar 20 | Equinox at 5:37 am EDT, the Vernal or Spring Equinox for the northern hemisphere. |
| Mar 28 | Full Moon at 2:48 pm EDT in Virgo. |
| Apr 2 | Formal Meeting, online via Zoom, opening at 7:30 pm (log-on information will be posted to the WAS e-group). |
| Note: | The status of 2021 Public Star Watches at Batsto and Member Star Watches at Atsion is still indeterminate due to COVID-19 restrictions in the New Jersey State Forests. |
Photo Spotlight Image posted 2.28.2021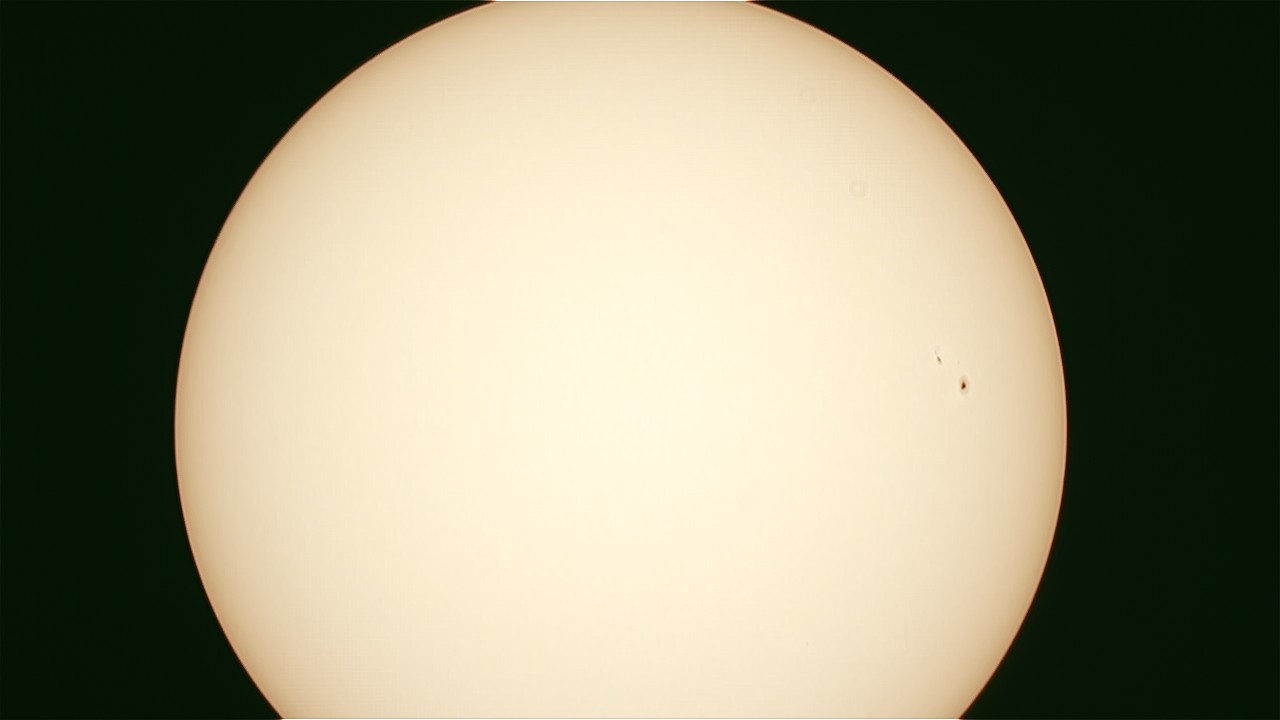 Club member Harry Lukis captured this image of the sun from Collingswood, NJ, on February 25, 2021. It shows sunspot group AR 2804 on the right approaching the western limb as a consequence of the sun's rotation. Sunspots have been infrequent in recent years; this group appeared mid-width of the sun's northern hemisphere on February 23. Taken with a digital SLR camera at the prime focus of a Celestron 6SE telescope with a white light solar filter. It was exposed 1/125 second at ISO 100 during a five second video, processed in GIMP.
Click here for the previous home page image.
Click to contact the . Members are encouraged to submit their astronomical images to the webmaster for inclusion on the WAS Home Page. Be sure to include a description, date and time, as well as equipment and photo data.
USNO Solar System Object Apparent Disc
(this link may be inoperative as the USNO website is undergoing modernization; estimated completion is now Fall 2020)
Star & Constellation Pronunciation Guides
Old SOHO Link Alternate SOHO Link