West Jersey Astronomical Society www.wasociety.us
Welcome to the Official Home Page of the West Jersey Astronomical Society (additionally known as the Willingboro Astronomical Society). Our club is in its 55th year of serving both the public and the amateur astronomers of the Delaware Valley. We have a long history of public education, star parties, interesting meetings, in-depth training and experienced leadership. We are a 501(c)(3) tax-exempt organization. Click here for membership information, including a PayPal link to pay dues (click here to make a separate donation). Members in good standing have access to the gated Barnegat Road Observing Site in the dark New Jersey Pines, while Atsion Field in the Pines is available to those with valid membership cards.
Announcements Last Update: Saturday, July 30, 2022
| | |
| --- | --- |
| July 30 | Member Star Watch at the Barnegat Rd Observing Site. The weather forecast looks good and the day-old thin crescent moon sets before the end of astronomical twilight, so members have confirmed plans to observe there on Saturday, July 30. The gate should be open about 8 pm. Note: This is a members-only event. |
| Aug 5 | Formal Meeting, at the Virtua Health and Wellness Center in Moorestown, NJ, 7:30 pm. We are now meeting in-person at Virtua, but it will also be simulcast via Zoom (log-on information is posted to the WAS e-group). Guests are welcome at Virtua. |
| Aug 11 | Full Moon at 9:36 pm EDT in Capricornus. |
| Aug 19 | Informal Meeting, at the Virtua Health and Wellness Center in Moorestown, NJ, 7:30 pm. |
| Aug 20 | Public Star Watch at Atsion Field in Wharton State Forest, NJ. Starting time is 7:30 pm. Check back here on the day of the event for the go/no-go weather call. |
| Aug 27 | New Moon at 4:17 am EDT in Leo. |
Photo Spotlight Image posted 7.24.2022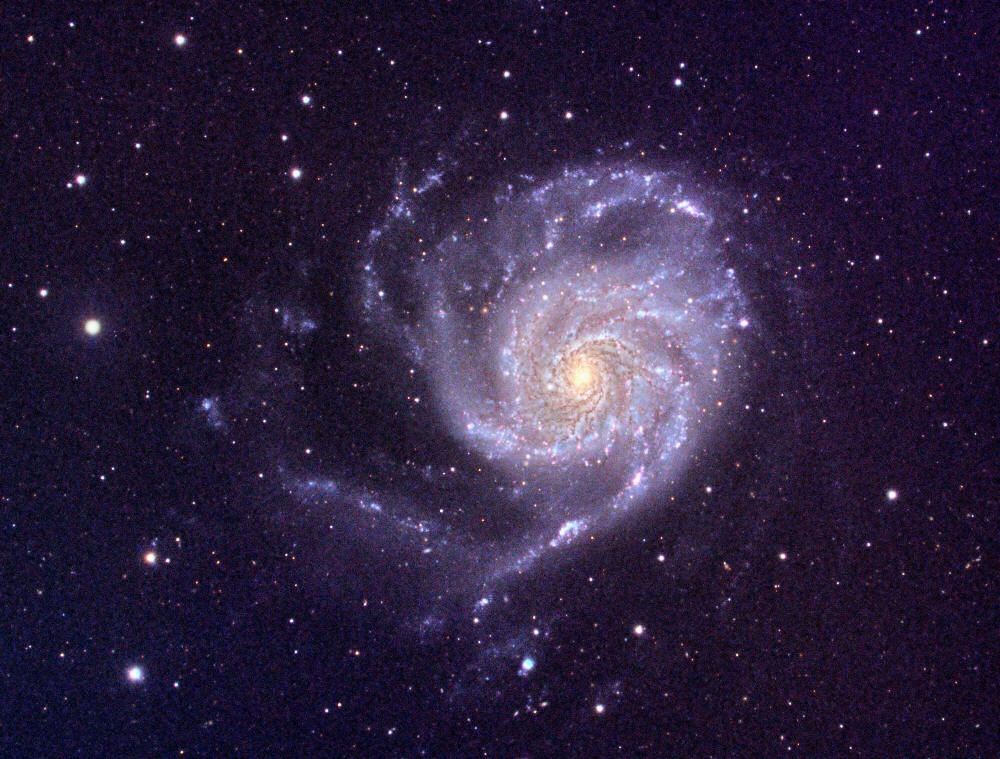 From Florida in late May 2022, club member Jim Mack captured this image of Messier 101, the Pinwheel Galaxy in Ursa Major. This was the "first light" image for a Celestron 9.25" EdgeHD aplanatic, flat-field Schmidt-Cassegrain telescope with a ZWO ASI2600MC-P digital astro-camera. The f/10 scope was working at f/7 with a 0.7 focal reducer for an effective focal length of 1645 mm. The scope was riding a SkyWatcher EQ6R German equatorial mount, guiding with a William Optics 66 mm refractor and a ZWO ASI290 camera. The total exposure was 100 minutes (20 x 300 second subs). System control accomplished with ASI Air Pro.
Sky & Telescope's This Week's Sky at a Glance, July 29 to August 6, 2022.
Click here for the previous home page image.
Click to contact the . Members are encouraged to submit their astronomical images to the webmaster for inclusion on the WAS Home Page. Be sure to include a description, date and time, as well as equipment and photo data.
Astrospheric Forecast for the Barnegat Road Observing Site

Star & Constellation Pronunciation Guides
Lunar X Predictions (UT)
United States Naval Observatory, Astronomical Applications