West Jersey Astronomical Society www.wasociety.us
Welcome to the Official Home Page of the West Jersey Astronomical Society (additionally known as the Willingboro Astronomical Society). Our club is in its 55th year of serving both the public and the amateur astronomers of the Delaware Valley. We have a long history of public education, star parties, interesting meetings, in-depth training and experienced leadership. We are a 501(c)(3) tax-exempt organization. Click here for membership information, including a PayPal link to pay dues (click here to make a separate donation). Members in good standing have access to the gated Barnegat Road Observing Site in the dark New Jersey Pines, while Atsion Field in the Pines is available to those with valid membership cards.
Announcements Last Update: Sunday, August 21, 2022
| | |
| --- | --- |
| Aug 26 | Member Star Watch at the Barnegat Rd Observing Site, August 26, 27 and/or 28 (Fri, Sat and/or Sun nights) depending on the weather. Final plans will be posted on the club e-group. Note: This is for members only. |
| Aug 27 | New Moon at 4:17 am EDT in Leo. |
| Sept 2 | Formal Meeting at the Virtua Health and Wellness Center in Moorestown, NJ, 7:30 pm. We are now meeting in-person at Virtua and guests are welcome. We will no longer simulcast via Zoom. |
| Sept 10 | Full Moon at 5:59 am EDT in Aquarius. |
| Sept 16 | Informal Meeting at the Virtua Health and Wellness Center in Moorestown, NJ, 7:30 pm. |
| Sept 17 | Public Star Watch at Batsto Village in Wharton State Forest, NJ. Starting time is 6:30 pm. There is no fee or registration, just attend. Check back here on the day of the event for the go/no-go weather call. |
Photo Spotlight Image posted 7.31.2022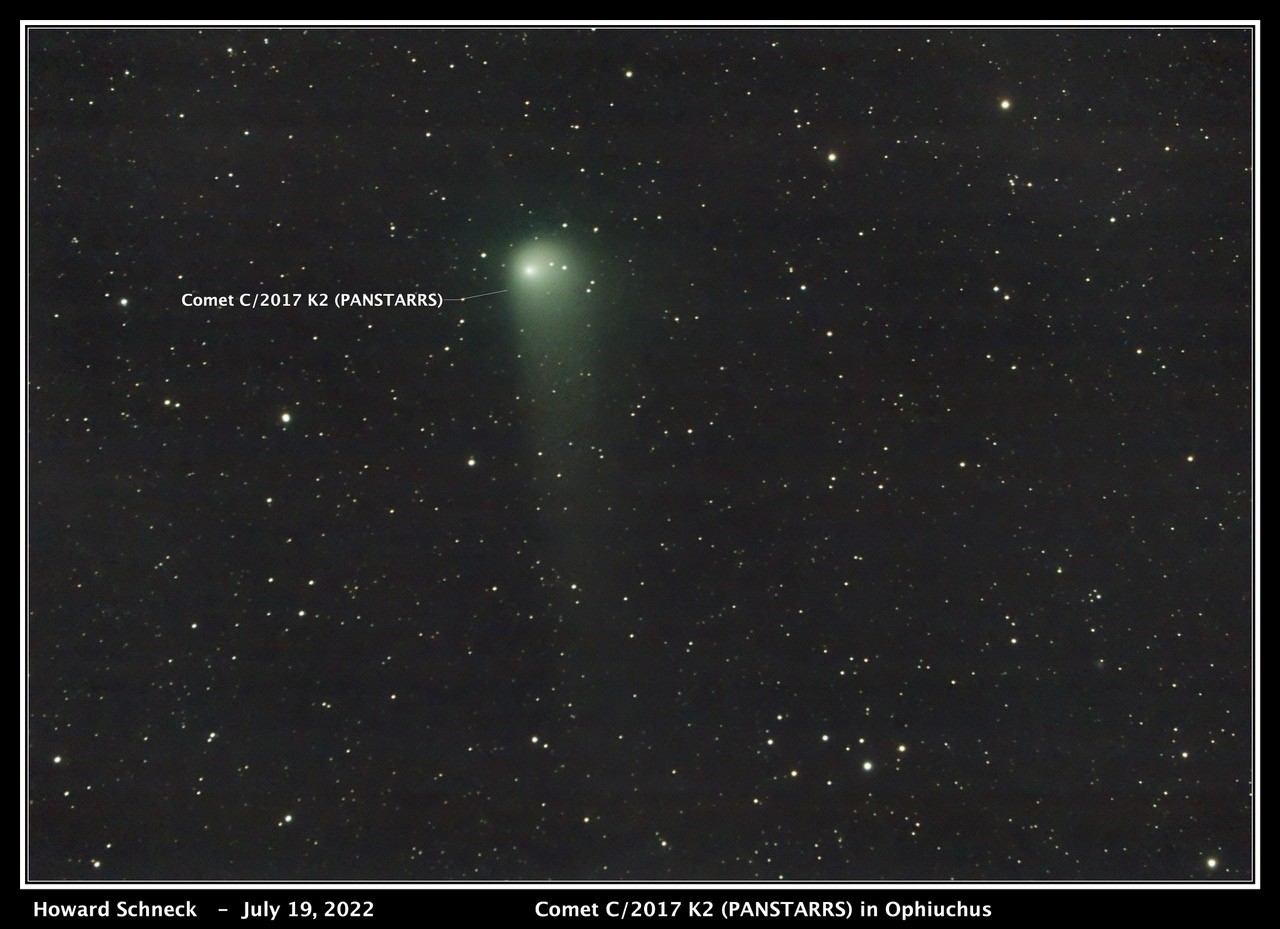 This image of Comet C/2017 K2 (PANSTARRS) was taken by club member Howard Schneck on July 19, 2022 from Atsion Field in Wharton State Forest, New Jersey. The comet is an Oort cloud object discovered in 2017 when it was between Saturn and Uranus (about 16 au), but was less than 2 au from Earth when imaged. Hubble Telescope analysis estimated the comet's nucleus to be about 11 miles diameter while the coma is estimated to be as big as the diameter of Jupiter (or about 10 times the Earth's diameter).
The imaging camera was a modified Canon T3 at the prime focus of a Celestron Edge HD8 telescope with a focal reducer (effective FL = 1488 mm) riding a Sky-Watcher NEQ6 Pro mount. Guiding was done with an Orion 60 mm guidescope (FL = 240 mm) and a ZWO ASI120MM-S camera. Integration time was 54 minutes (27 x 2 min) with 30 Flats. Dithering was used for every sub. FOV is 47' x 33' and the image scale is 0.72"/pixel. The center of the image is RA 16h 47m 34s, Dec -5° 36' 40". North is towards 7 o'clock from the head, east is towards 4 o'clock. The position angle of the tail is about 18°. Captured with NINA and PHD2, processing with PixInsight.
At the end of July 2022, C/2017 K2 remains visible with a modest telescope in southern Ophiuchus. It will soon enter Scorpius, pass by the Scorpion's head and become more favorably positioned for southern hemisphere observers. Here's the Skyhound Comet Chasing page.
Click here for the previous home page image.
Sky & Telescope's This Week's Sky at a Glance, August 19 to 27, 2022.
Click to contact the . Members are encouraged to submit their astronomical images to the webmaster for inclusion on the WAS Home Page. Be sure to include a description, date and time, as well as equipment and photo data.
Astrospheric Forecast for the Barnegat Road Observing Site

Star & Constellation Pronunciation Guides
Lunar X Predictions (UT)
United States Naval Observatory, Astronomical Applications