West Jersey Astronomical Society www.wasociety.us
Welcome to the Official Home Page of the West Jersey Astronomical Society (formerly known as the Willingboro Astronomical Society). Our club is in its 51st year of serving both the public and the amateur astronomers of the Delaware Valley. We have a long history of public education, star parties, interesting meetings, in-depth training and experienced leadership. We are a 501(c)(3) tax-exempt organization. Click here for membership information (dues can now be paid through PayPal).
Announcements Last Update: Monday, April 16, 2018
| | |
| --- | --- |
| Apr 15 | New Moon at 9:57 pm EDT in southeastern Pisces. At sunset on Monday, April 16 (7:40 pm EDT for 40°N-75°W), the thin crescent moon (1.2% illuminated, 7½° altitude) will be just 21 hr 43 min old. |
| Apr 20 | Informal Meeting, 7:30 pm at the Virtua Health and Wellness Center in Moorestown, NJ. As always, guests are welcome and no astronomical experience is necessary. Use the Main Entrance and check with the security guard who will direct you to the conference room. Here are the minutes from the April 6 meeting. |
| Apr 21 | NEAF, The Northeast Astronomy Forum, begins in Suffren, NY; concludes April 22. |
| Apr 29 | Full Moon at 8:58 pm EDT in western Libra. |
| May 4 | Formal Meeting, 7:30 pm at the Virtua Health and Wellness Center in Moorestown, NJ. This will be Show and Tell Night, so bring your astronomical curios, including any goodies from NEAF. |
| May 12 | Public Star Watch at Batsto. Check back on the day of the event for the weather call (go or no-go). |
| May 15 | New Moon at 7:48 am EDT in western Taurus. |
| May 18 | Informal Meeting, 7:30 pm at the Virtua Health and Wellness Center in Moorestown, NJ. |
| May 19 | Member Star Watch at Atsion. |
Photo Spotlight Image posted 4.01.2018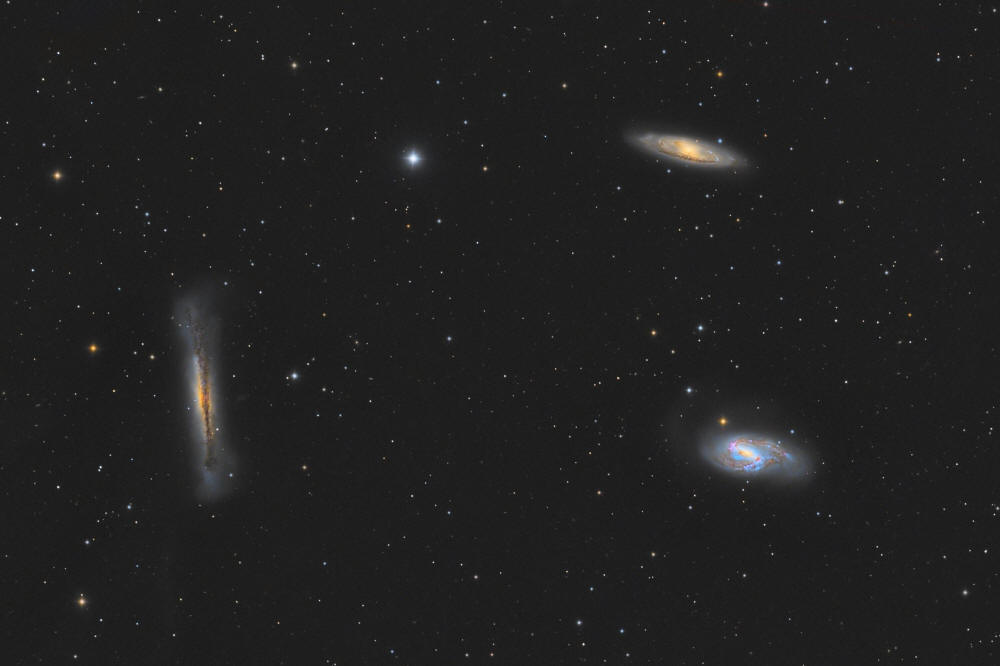 This image of the Leo Galaxy Triplet was taken by club member Dan McCauley with a Takahashi TAO-130 apo refractor and a QSI-683 CCD camera using Astrodon filters. Luminance data was captured with 16 x 5 minute exposures from Atsion Field, NJ, while color data was captured with 12 x 5 minute exposures each of red, blue and green from Pemberton Lake, NJ. Moving clockwise from the upper right, the individual galaxies are M65, M66 and NGC 3628. The bright star above center is magnitude 7.1 HD 98388.
Click here for the previous home page image.
Click to contact the . Members are encouraged to submit their astronomical images to the webmaster for inclusion on the WAS Home Page. Be sure to include a description, date and time, as well as equipment and photo data.
USNO Solar System Object Apparent Disc
Star & Constellation Pronunciation Guides
Old SOHO Link Alternate SOHO Link