West Jersey Astronomical Society www.wasociety.us
Welcome to the Official Home Page of the West Jersey Astronomical Society (formerly known as the Willingboro Astronomical Society). Our club is in its 52nd year of serving both the public and the amateur astronomers of the Delaware Valley. We have a long history of public education, star parties, interesting meetings, in-depth training and experienced leadership. We are a 501(c)(3) tax-exempt organization. Click here for membership information (dues can now be paid through PayPal).
Announcements Last Update: Saturday, March 09, 2019
| | |
| --- | --- |
| Mar 9 | Member Star Watch at Atsion. This event has been cancelled due to weather and permit concerns. |
| Mar 10 | Daylight Time begins — at 2 am EST, move clocks forward to 3 am EDT. |
| Mar 12 | Astrophotography Meeting, 7:00 pm at the Virtua Health and Wellness Center in Moorestown, NJ. There will be a presentation by Dan McCauley - PixInsight Processing Demo of M64 Galaxy. The demo will highlight several important tools in PixInsight including deconvolution, star mask creation and star reduction, as well as LRGB combine. More information and links to practice files available here. |
| Mar 15 | We will hold a private Star Watch at Kresson School. Member scope support will be needed. |
| Mar 20 | Equinox at 5:58 pm EDT, the Vernal Equinox for the Northern Hemishere. |
| Mar 20 | Full Moon at 9:43 pm EDT in western Virgo. |
| Mar 21 | Informal Meeting at the Virtua Health and Wellness Center in Moorestown, NJ. Informal meetings in 2019 will continue to be on the third Thursday of the month. As always, guests are welcome and no astronomical experience is necessary. Use the Main Entrance, go straight ahead and follow the sign for the conference center, or check with the security guard who will direct you to the room. |
| Apr 5 | New Moon at 4:50 am EST in northern Cetus. |
| Apr 5 | Formal Meeting, 7:30 pm at the Virtua Health and Wellness Center in Moorestown, NJ. |
| Apr 6 | Public Star Watch at Batsto. Check back for the weather call on the day of the event. |
Photo Spotlight Image posted 2.13.2019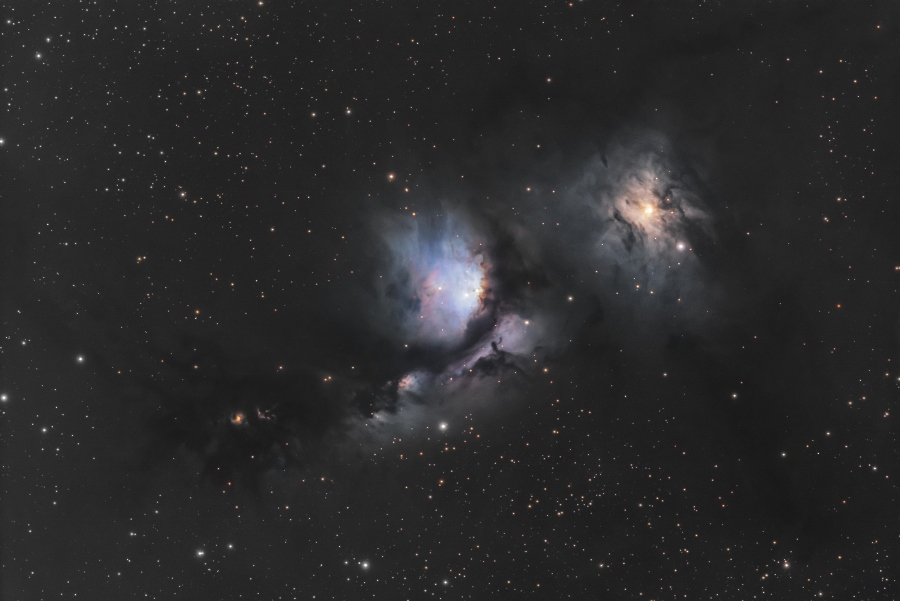 Club member Dan McCauley captured this delicately detailed image of Messier 78 and its surrounding objects, which includes the location of McNeil's Nebula, but the latter is not currently visible (mouseover for labels). Dan used a Takahashi TOA-130 apo refractor (with an f/5.5 reducer) and a ZWO ASI183 CMOS camera, capturing two hours of luminance data back in December 2018, then on the night of February 9-10, 2019, in Belleplain State Forest, NJ, he captured two more hours of luminance and two hours of color data (40 minutes each of RGB). Here's a picture of the rig at Belleplain. However, while processing the image, he was not satisfied with the color data from Feb 9-10, so he used some older color data from the same rig (sans reducer) and a QSI-683 CCD camera. Click here for a larger version of the M78 image.
Click here for the previous home page image.
Click to contact the . Members are encouraged to submit their astronomical images to the webmaster for inclusion on the WAS Home Page. Be sure to include a description, date and time, as well as equipment and photo data.
USNO Solar System Object Apparent Disc
Star & Constellation Pronunciation Guides
Old SOHO Link Alternate SOHO Link