West Jersey Astronomical Society www.wasociety.us
Welcome to the Official Home Page of the West Jersey Astronomical Society (formerly known as the Willingboro Astronomical Society). Our club is in its 53rd year of serving both the public and the amateur astronomers of the Delaware Valley. We have a long history of public education, star parties, interesting meetings, in-depth training and experienced leadership. We are a 501(c)(3) tax-exempt organization. Click here for membership information (dues can now be paid through PayPal).
Announcements Last Update: Friday, May 01, 2020
| | |
| --- | --- |
| May 1 | Formal Meeting, 7:30 pm at the Virtua Health and Wellness Center in Moorestown, NJ, has been cancelled because of venue restrictions due to coronavirus concerns, as are all meetings there until June 2020. |
| May 7 | Full Moon at 6:45 am EDT in Libra. |
| May 22 | New Moon at 1:39 pm EDT in western Taurus. |
| May 23 | Public Star Watch at Batsto. Due to coronavirus concerns, all events in Wharton State Forest have been canceled through May 2020. |
| May 24 | Member Star Watch at Atsion. Due to coronavirus concerns, all events in Wharton State Forest have been canceled through May 2020. |
Photo Spotlight Image posted 3.22.2020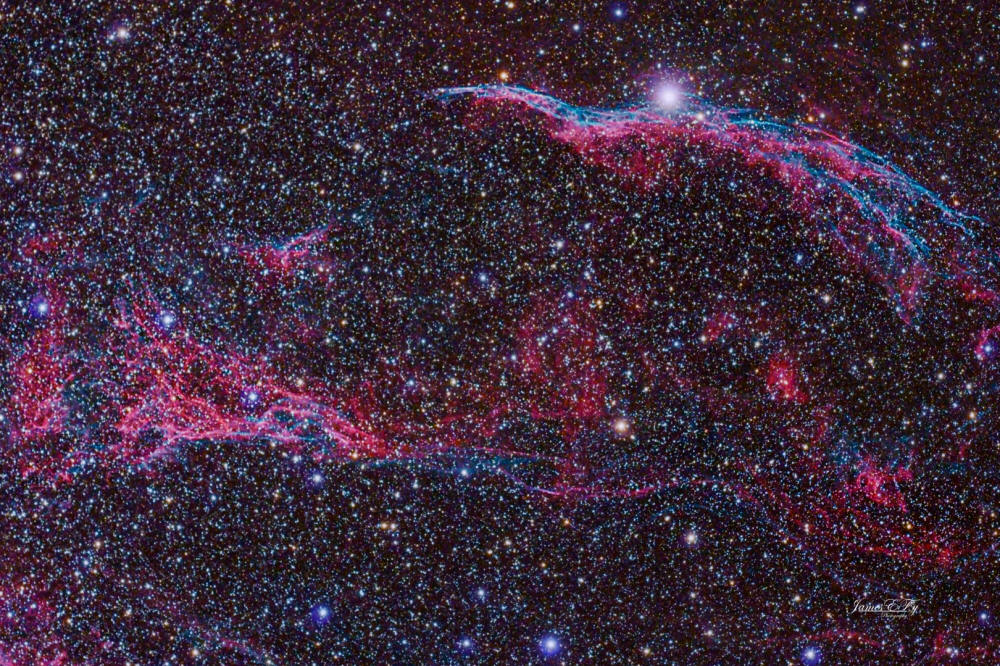 Club member Jim Foy captured this image of the Veil Nebula, located at the southeast wingtip of Cygnus the Swan. Specifically, the Western Veil (NGC 6960) is at the top passing just below the magnitude 4.2 star, 52 Cygni, and below that, Pickering's Triangular Wisp (NGC 6979/6974), also known as Flemming's Triangular Wisp since it was actually discovered by Williamina Flemming. Jim captured this image on 26-July-2019 from Atsion using a Hap Griffin modified Canon 60D digital SLR camera at the prime focus of a Takahashi FSQ106N 106 mm, f/5 apo refractor (530 mm focal length) tracking on an Astro-Physics AP900 German equatorial mount. It was exposed 185 minutes (37 x 5 minute subs) at ISO 1600. For a larger version, click here or click the image.
Click here for the previous home page image.
Click to contact the . Members are encouraged to submit their astronomical images to the webmaster for inclusion on the WAS Home Page. Be sure to include a description, date and time, as well as equipment and photo data.
Dark time, April 5 to 18, 2020.
USNO Solar System Object Apparent Disc
(this link may be inoperative as the USNO websites are undergoing modernization; estimated completion is Summer 2020)
Star & Constellation Pronunciation Guides
Old SOHO Link Alternate SOHO Link