West Jersey Astronomical Society www.wasociety.us
Welcome to the Official Home Page of the West Jersey Astronomical Society (additionally known as the Willingboro Astronomical Society). Our club is in its 54th year of serving both the public and the amateur astronomers of the Delaware Valley. We have a long history of public education, star parties, interesting meetings, in-depth training and experienced leadership. We are a 501(c)(3) tax-exempt organization. Click here for membership information.
Announcements Last Update: Tuesday, September 14, 2021
Sept 6
New Moon at 8:52 pm EDT in Leo. The thin crescent moon will be 22.8 hr old on Sept 7 at 7:30 pm, low in the west just after sunset at 7:21 pm for the Moorestown, NJ, area.
Sept 17
Informal Meeting, online via Zoom, opening at 7:30 pm (log-on information will be posted to the WAS e-group. Physical meetings at the Virtua Health and Wellness Center in Moorestown, NJ,

remain suspended

due to COVID-19 restrictions at the venue.
Sept 20
Full Moon at 7:55 pm EDT in Pisces, the Harvest Moon for 2021. Moonrise occurs at 7:17 pm for 40°N-75°W.
Sept 22
Equinox at 3:21 pm EDT; autumn begins in the northern hemisphere.
Oct 1
Formal Meeting, online via Zoom, opening at 7:30 pm (log-on information will be posted to the WAS e-group).
Note:
The status of 2021 Public Star Watches at Batsto and Member Star Watches at Atsion is still indeterminate as a consequence of COVID-19 restrictions. However, member star watches at the Barnegat Road Observing Site have been, and will be held as the moon and weather permit (they will be announced on the WAS Google group).
Photo Spotlight Image posted 8.23.2021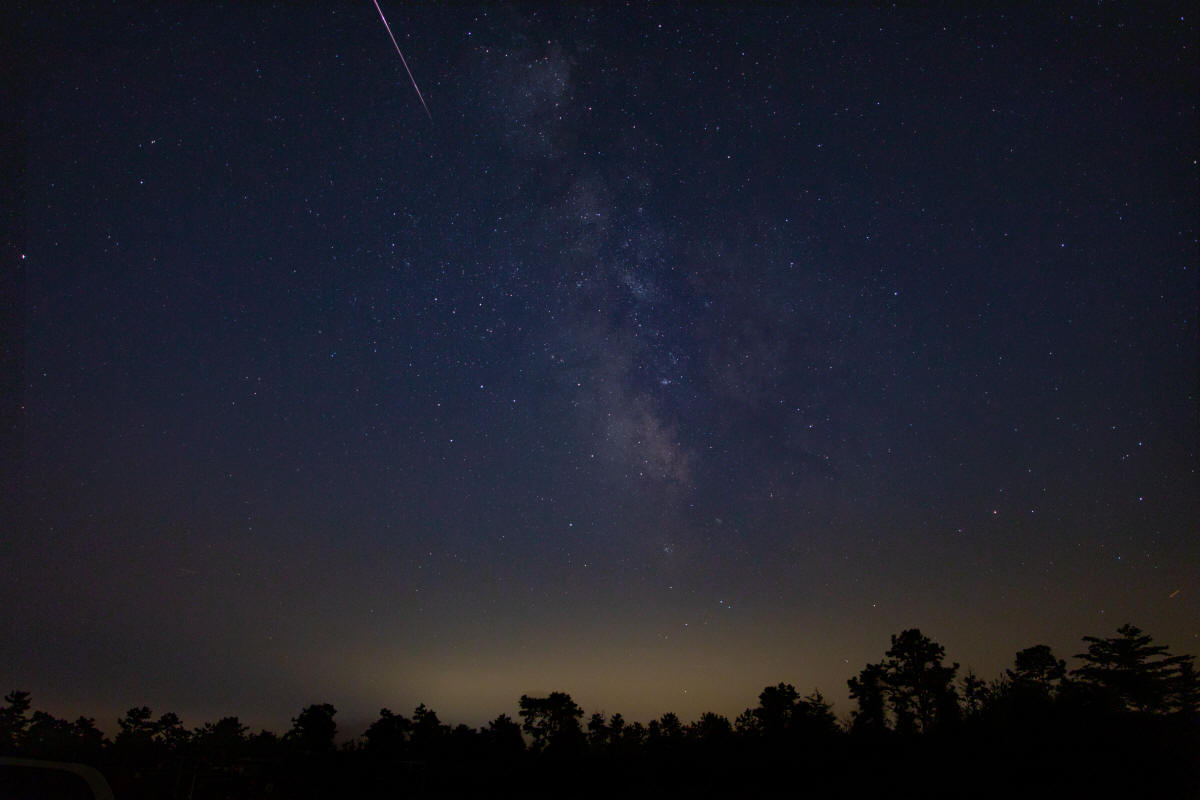 During a WAS Member Star Watch on Thursday night, August 12, 2021, at our Barnegat Road Observing Site in the dark New Jersey Pines, club secretary Suzanne Leap captured this bright meteor during the annual Perseid meteor shower. Following the streak upwards and across the sky leads back to the radiant in the constellation Perseus behind the photographer. The background sky shows the cloud-like Milky Way running from Aquila at the top of the frame down into Sagittarius, looking towards the center of our galaxy. Mouseover for labels. Note that RS Ophiuchi is labeled. This star is normally around 11th magnitude, but on August 8, 2021, it experienced an outburst to brighter than magnitude 5. By time this picture was captured, it had dimmed to magnitude 6+ and is currently about magnitude 8.
This image was captured using a Canon EOS 80D digital SLR camera with a Rokinon 16 mm, f/2 lens on a fixed tripod. This is a stack of 60 frames of 6 seconds each for 6 minutes total exposure at f/2, ISO 1000. The meteor, of course, was essentially instantaneous, so it appeared on just a single frame. Advanced astrophotographer Jerry Lodriguss provided processing, using DeepSkyStacker for aligning and stacking, Photoshop for post processing. Click here for a larger version.
Click here for the previous home page image.
Click to contact the . Members are encouraged to submit their astronomical images to the webmaster for inclusion on the WAS Home Page. Be sure to include a description, date and time, as well as equipment and photo data.
USNO Solar System Object Apparent Disc
(this link may be inoperative as the USNO website is undergoing modernization, very slowly; the original estimated completion was Fall 2020)
Star & Constellation Pronunciation Guides
Old SOHO Link Alternate SOHO Link
Lunar X predictions for August through December 2021
Alan Daroff submitted this challenge: He took a snapshot of his TV screen showing the Summer Milky Way as viewed from Thailand, so the orientation differs from what we would see at 40°N. Three major planets are in the TV image, can you find and identify them, and based on their position, can you tell when the TV image was taken? Here's a smaller version (2400 x 1800, 369 KB) and here's the larger original version (4032 x 3024, 2.56 MB). Bonus question: Can you identify the bright celestial object near the right edge of the TV screen? Ignore the room reflections at the bottom and the right-hand side of the TV screen. Posted 03-Sept-2021.